Drones boost construction industry competitiveness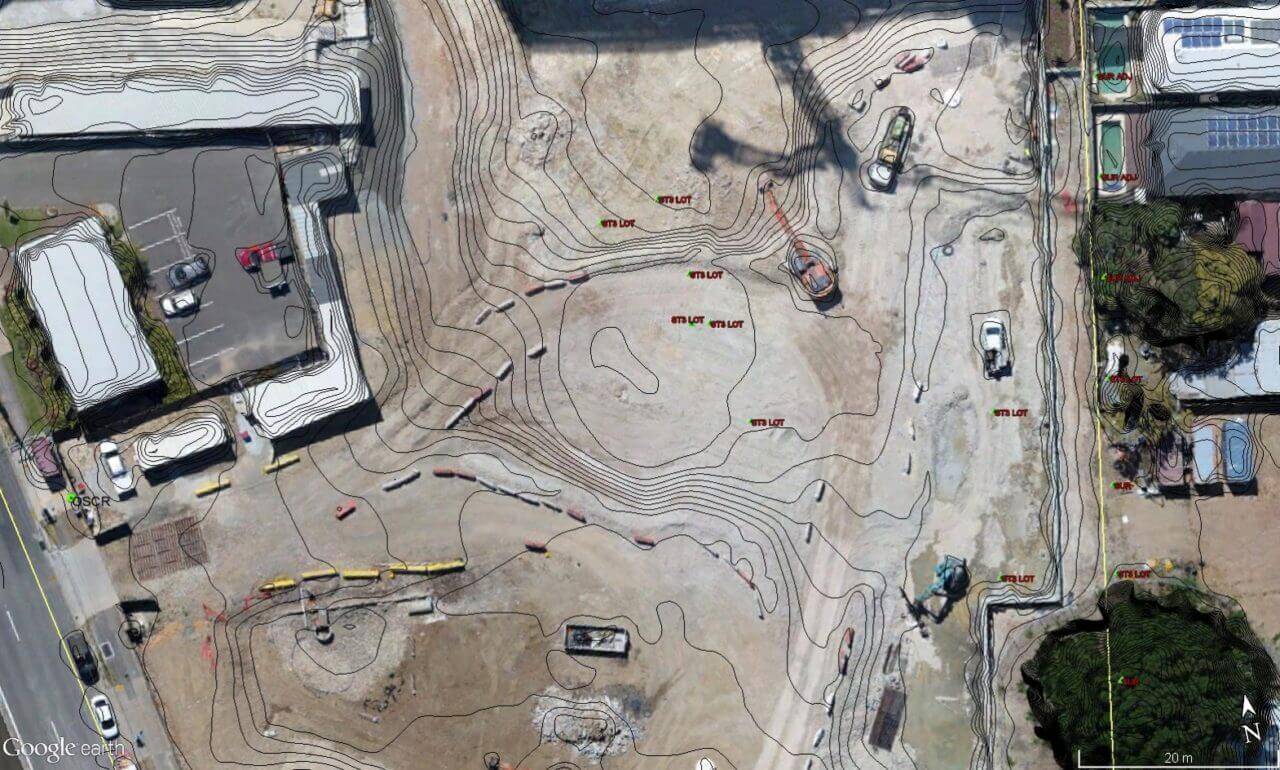 As the year draws to a close, I've been reflecting on how the use of drones is changing the construction industry, especially in the large commercial development sector. 2018 has brought major changes to construction workflows and processes that have seen drones move from the realm of the curious to essential tools in the workplace.
As 2018 opened, we were having conversations with construction project managers about using drones on major development sites, but the objectives and outcomes were experimental, exploratory, far from having any measurable benefits or values. Perhaps we could see if excavations have breached site boundary levels? Maybe we could measure if contractors were actually delivering and removing the amounts of fill they were billing? Wouldn't it be great to get video of a penthouse concrete pour and show that to the investors?
As 2018 comes to a close the conversations we're having with construction companies are completely different. It is now becoming obvious that if you're in the civil construction sector and you are not yet using drones in your workflow, you'll soon be in an at-risk minority competitively-speaking. Early adopters of drone technologies (the right ones, not the toys) are already enjoying a healthy competitive advantage and that will only become more obvious in 2019.
Where 12 months ago the questions we were fielding from construction industry clients were almost all about how to establish value for drone operations on site, now it's almost all about how the use of drones is actually driving value on projects. The future is no longer coming, it's here and now.
Interestingly, though, the conversations are still not where we thought they might be by now (and, perhaps, where we've been trying to direct them). While our engineering and building designer clients are obviously keen to embrace virtual design and construction (VDC) and building information modelling (BIM), both of which can be easily informed by professional drone surveys, out on site the conversations are still about what drone photography and video can do to improve site safety, resolve contractor disputes and manage site resources. Sometimes it's just about seeing the big picture of a construction site on a regular basis.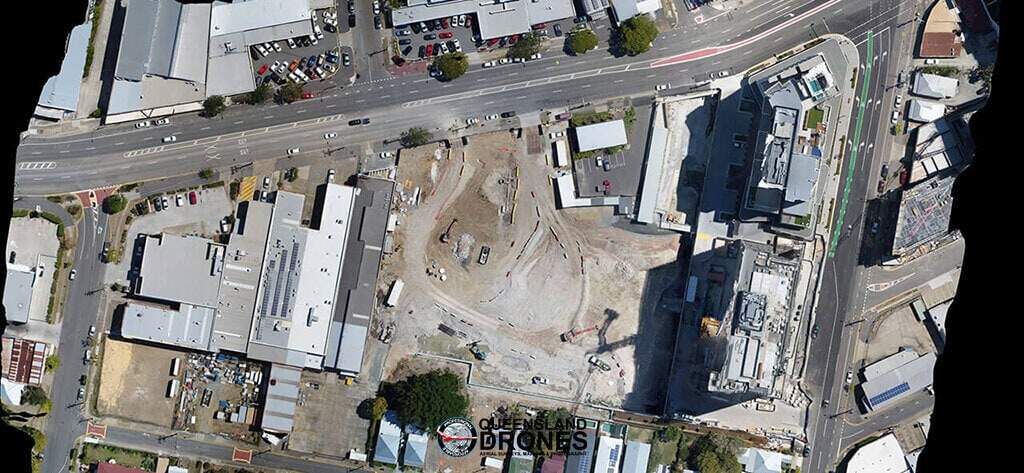 Construction site photography is one of the best ways to record project progress and it's nothing new, project managers have been using it for years. It's just that now it's much easier and more convenient, thanks to drone photography. Of course, getting a photo like the one above requires more than flying a drone … to get this from a single photo means flying hundreds of metres above the site (clearly illegal) and the detail from a single photo would be minimal compared to the detail in orthographic photo like this. It combines literally hundreds of aerial photos into a single image with amazing resolution, using precision ground control to correct distortions normally encountered over an area of this size.
While you might be able to get imagery like this with a helicopter (and that's the way progressive project managers were doing it until drones came along), the result will never be as detailed and crisp as what is being achieved with drones. And helicopters can hardly be expected to get photos like this …

Drones have carved out their own space in project progress photography and marketing photography in 2018 due to their versatility. reliability, ability to deploy quickly and cost-effectively and operate safely.
While drones have been clearly able to establish their value in progress photography and marketing photography in 2018, I predict this will be comprehensively eclipsed in 2019 as drone surveys find their way more and more into the project design workflow where the value equation is even more obvious and the potential ROI is staggering.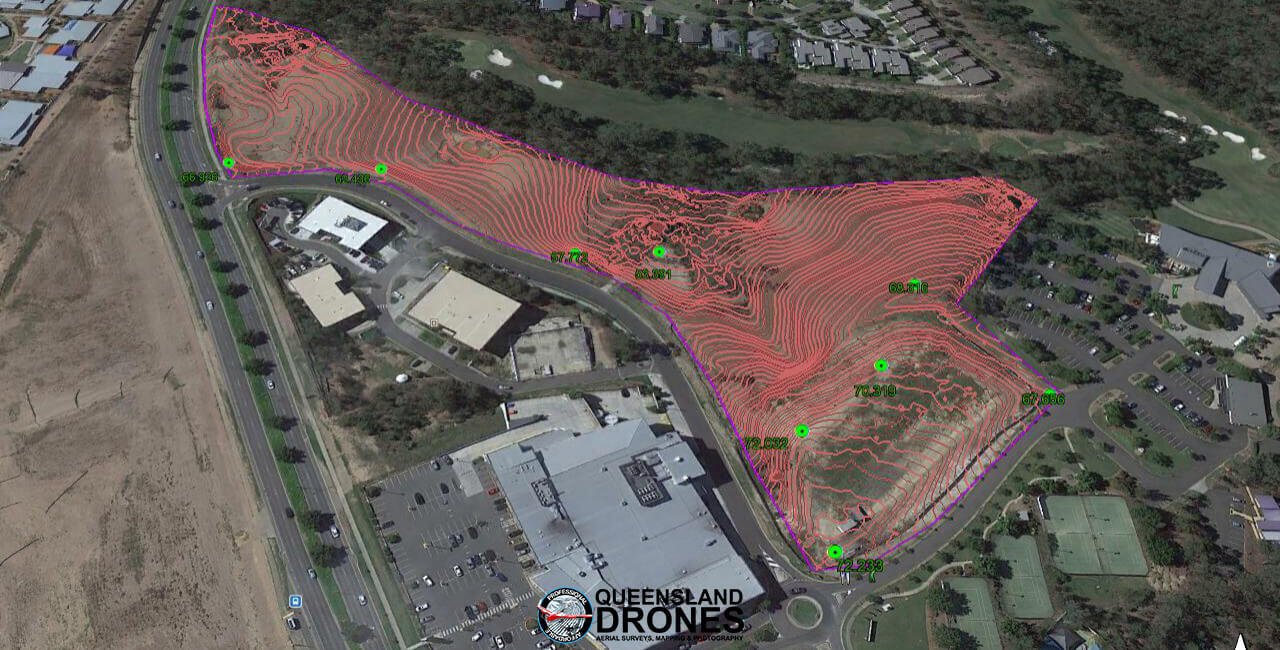 One great example we saw of the potential for massive ROI from drone imagery in 2018 involved a large tourism development site that had encountered environmental challenges resulting in an enforced lockout by the state government. With the site shut down and no project personnel allowed to enter the site, the only way to keep the design process moving forward was a precision drone survey to inform virtual design and construction until the site could be re-opened. Using ground control points set around the perimeter, Queensland Drones was able to accurately model the site as it was at the point of lockout, providing high resolution orthographic photos, digital terrain model, classified digital elevation model, fine detail contour map and both mesh and point models to be imported into the design system.
Keen to find out more about the emerging value of drone services in the construction industry? Let's talk. Give me (Tony Gilbert) a call on 1800 931 866 or check out our Services for Builders and Project Managers for more information.