Aerial Thermal Mapping and Thermal Inspections
Thermal Inspection of Critical Assets and Environments using Drones
Aerial thermal mapping using drones can deliver essential insights into the performance of critical assets such as commercial solar panel arrays, solar farms, industrial and commercial roof surfaces, vegetation areas, environmental areas and commercial crops.
Queensland Drones delivers specialised thermal imaging services using enterprise grade radiometric thermal sensors like the DJI H20T, which can capture both thermal images and thermal video, to provide both relative and actual temperature readings even over very large areas. We also have the capability to deliver centimetre precision data so your team can go straight to the detected issue, every time.
Typical applications for aerial thermal inspections include:
Thermal Building Inspections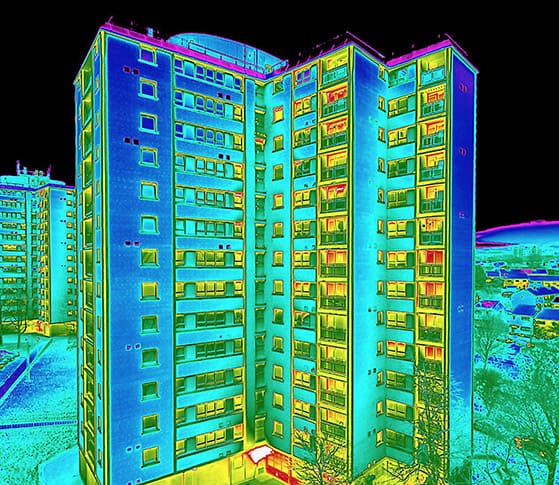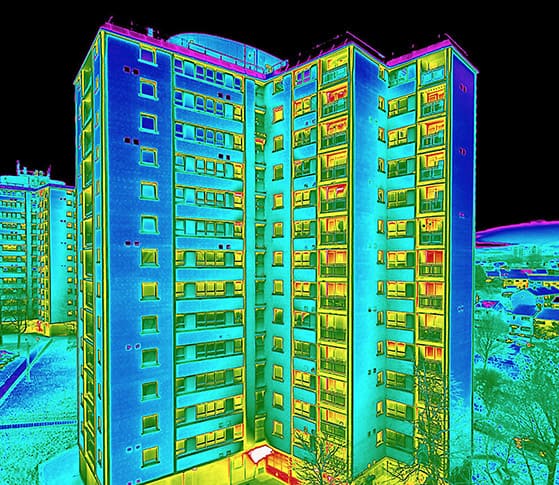 Our radiometric thermal inspection drones can examine external surfaces of any commercial or industrial building to identify both hot and cold areas which can indicate heat loss, air ingress or water ingress into the building shell.
Early detection of facade and structural weaknesses can save large sums in building repair and maintenance on office blocks, high rise residential and commercial towers, office blocks, even structures like bridges and tunnels.
Thermal Solar Panel and Solar Farm Inspections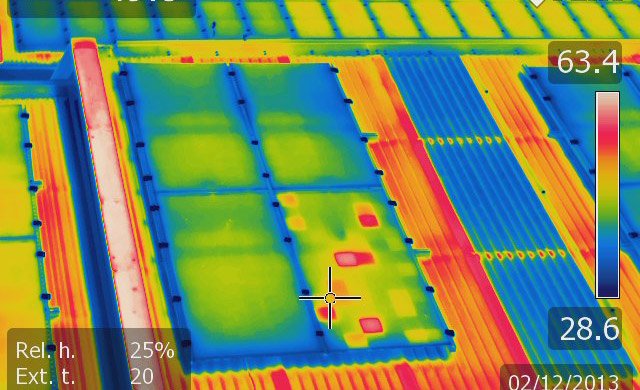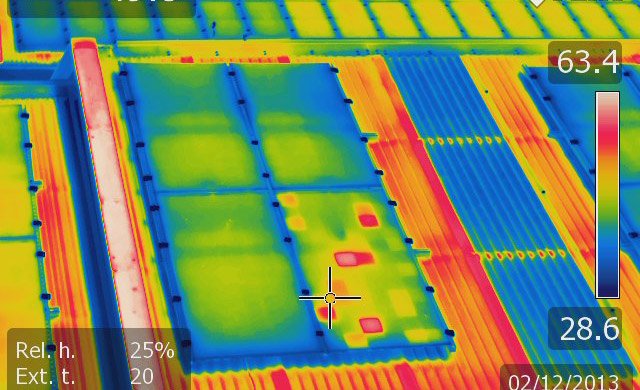 Thermal radiometric solar panel performance inspections are safer, faster and more effective than any traditional methods, especially as they can detect performance faults down to cell level within a panel, to panel level within a sub-array, and to array level within a panel group – a far greater level of precision than any other inspection method.
Queensland Drones can supply raw thermal radiometric imagery for processing by your own team, or we can analyse the thermal data to deliver hotspot reports with GPS data for easy location of under-performing panels or sub-arrays. If required, we can also introduce you to more detailed and consolidated thermal array reporting from our analysis partners, Helimetrics and Raptor Maps.
Commercial Roof Inspections, Tower and Spire Inspections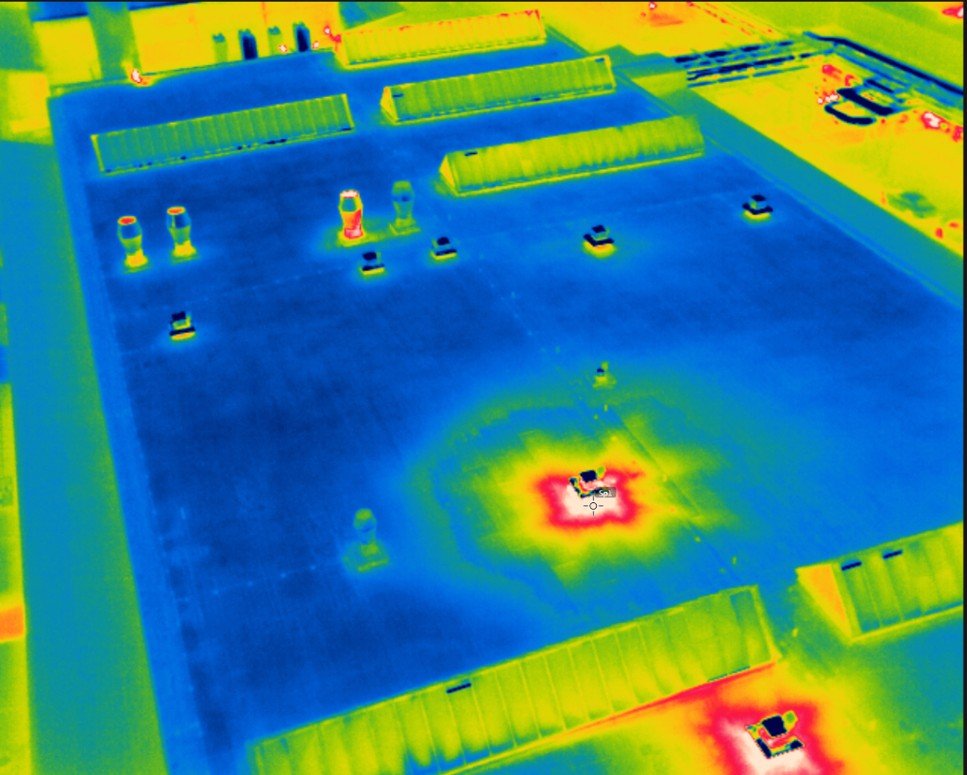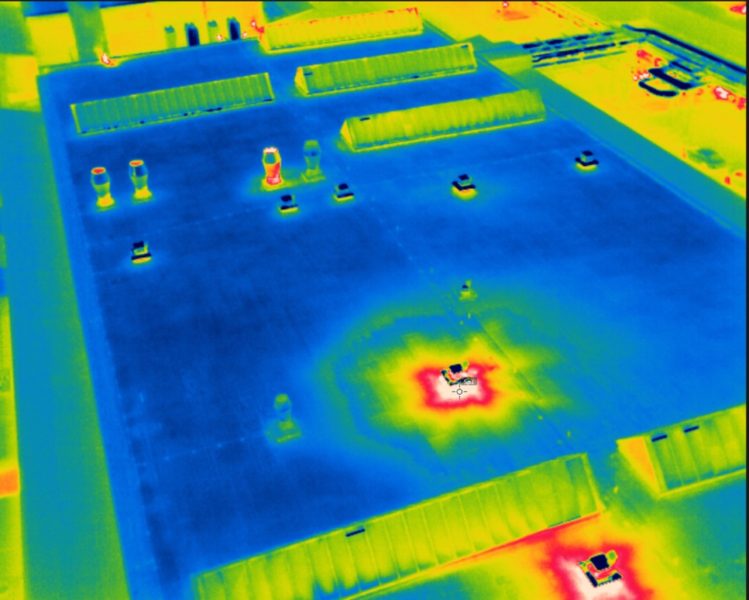 Traditional methods of inspecting high roofs and structures like towers and spires are inherently dangerous, a fact that has been recognised in recent changes to Workplace Health & Safety regulations which now require scaffolding and additional safety protections for personnel operating above specific heights.
UAV inspection of roofs and other high structures using thermal radiometric imaging requires no scaffolding and does not put personnel at any risk. Thermal roof inspections using drones is faster, safer and more cost-effective than any traditional method. Our radiometric thermal cameras can detect hotspots and provide reporting on actual surface temperatures including the precise location, so your maintenance teams know what to look for and where it's located before they ever step onto a roof.
Environmental and Agricultural Thermal Mapping Using Drones

Aerial thermal inspection using drones is useful in the detection of crop anomalies (refer to https://iopscience.iop.org/article/10.1088/1742-6596/1224/1/012034/pdf for example) and the detection and counting of pest animals in crops and environmentally sensitive areas.
Our aerial thermal radiometric sensors are especially good at detecting the thermal signatures of pest animals in sensitive environmental areas, especially at night. Depending on the height we fly, our sensors can detect anything from larger animals like horses, deer and ungulates, to mid-size animals like dogs, pigs and foxes, and even small animals like rodents, rabbits, etc.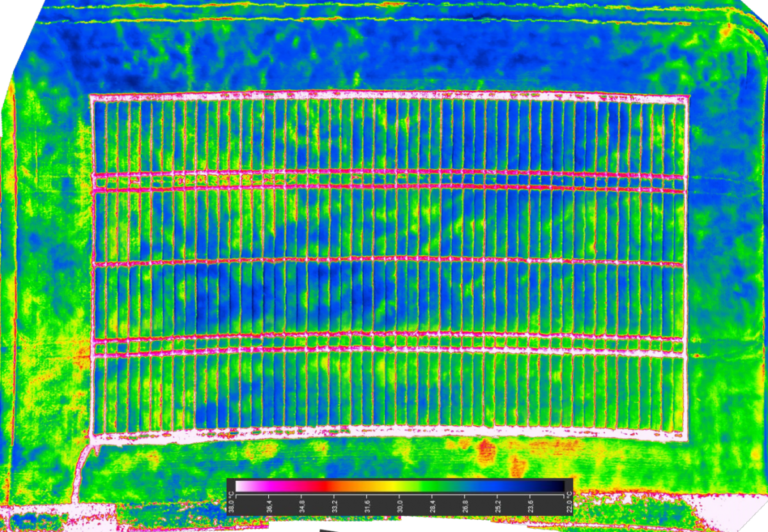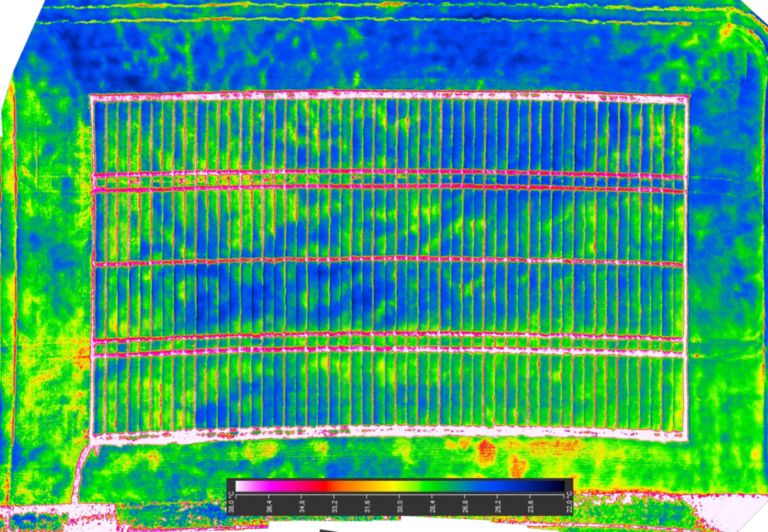 Aerial thermal drone inspections can also bring a whole new level of insight to crop health inspections. Our thermal sensors can easily detect issues including irrigation blockages, over-watering, nitrogen deficiencies, even the comparative health of plots within a trial planting, or even individual plants within a plot.
Thermal Inspection of Power Transmission and Distribution Assets
Thermal inspection of power transmission and distribution line assets is rapidly replacing tradition, costly and dangerous methods like ground photography and helicopter photography.
All powerline structures and components absorb heat in normal operation, both from the network and from the environment, but aerial thermal inspection can rapidly and accurately detect abnormal heat which could indicate a developing fault or hazard in a component, which could result in failure or even fire.
Aerial thermal imaging of power transmission and distribution assets is faster, cheaper and much safer. Data can be collected in a standard, repeatable format which can be compared from period to period to identify emerging issues much sooner than subjective observation.

Ask About our Aerial Thermal Mapping and Inspection Services
Call Tony on 1300 677 183, email [email protected] or complete the form below and we'll contact you.