WE FLY, WE ANALYSE, WE DELIVER!
YOU GET THE RESULTS YOU NEED
We fly, you get data
Queensland Drones is a leading provider of UAV aerial mapping and decision support data. We deliver precision aerial insights to support the development application, environmental assessment and project planning phases.
KEEPING YOU INFORMED
Our aerial mapping can provide accurate, detailed elevation contours, drainage lines, viewsheds, volumetrics and more to inform and support your project management workflows.
PROJECT MARKETING
We deliver accurate and amazingly beautiful viewsheds and projected views from every floor and every balcony of your planned high-rise development
BUILT ENVIRONMENT
Queensland Drones delivers stunning architectural photography of your completed development to support your project marketing activities and inform your remote stakeholders.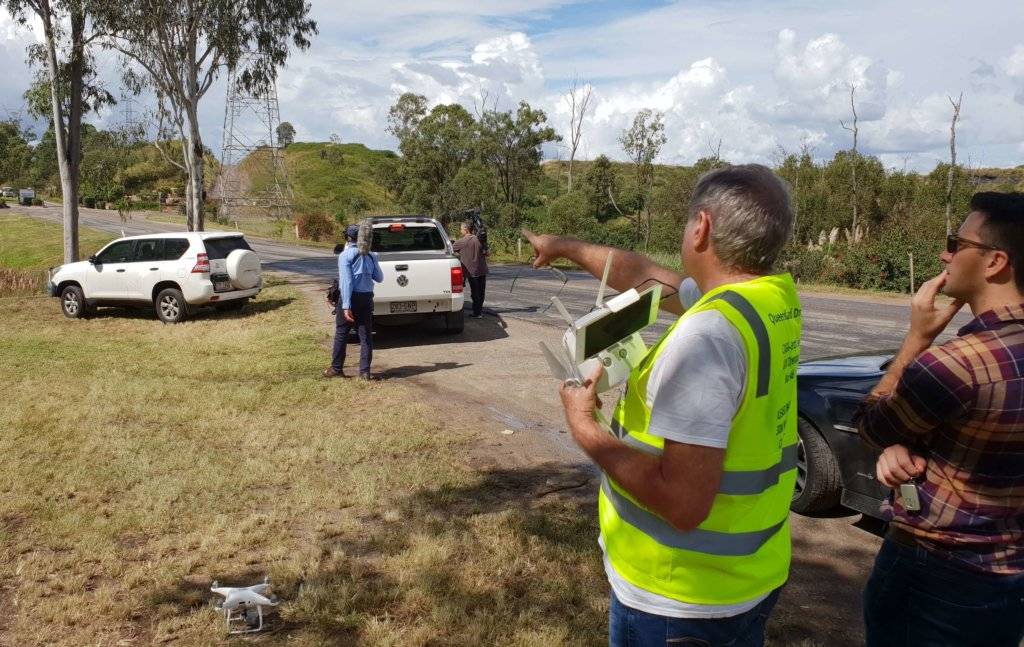 MAKING THE NEWS!
Our professional team works with news media and film-makers to direct and capture stunning, cinematic quality aerial video from live broadcast to B-roll, across Australia.
TRACKING YOUR PROGRESS
Our progress photography package provides daily, weekly or monthly aerial photography and video to keep your management and stakeholders informed and to support contractor disputes and claims.
ENVIRONMENTAL ASSESSMENT
Our aerial imagery supports detailed and accurate environmental mapping, habitat modelling and aerial video to support your environmental assessment and reporting needs
GROWING THE FUTURE
Queensland Drones is a leader in advanced aerial decision support for farmers, growers and agronomists, with both aerial and ground sensing for crop and soil health analyses
SELLING THE SIZZLE
We deliver stunning aerial photography and aerial video of your acreage or rural property to support you in the sale of your property and create memories that will last a lifetime
INFORMING CHANGE
Our development package delivers precision data to support development applications and material change of use applications, including terrain, soil, water and vegetation assessments.
SAVING YOU MONEY
Our domestic and commercial roof inspection packages provide detailed and informative roof and asset inspections services for maintenance, insurance, industrial and property management situations.
KEEPING YOU SAFE
Queensland Drones can provide incredibly detailed and informative visual inspection of dangerous, difficult to reach locations without putting your staff or contractors in danger.
Queensland Drones is a different kind of aerial photography and drone imaging company. We specialise in delivering value-add services to commercial, industrial and rural industry clients using leading-edge image capture, image processing, data analysis and advanced GIS techniques. We are CASA-Certified, fully insured and operate within a strong safety management framework that can be integrated into your existing safety frameworks.
Although we can provide stunning aerial photos and cinematic aerial video to support multimedia projects and client marketing programs, our real focus is on delivering fast and accurate aerial orthographic imaging, backed by precision GPS controls, that can be integrated into your CAD and BIM systems or delivered as ready-to-use collateral like precision contour maps (KMZ, SHP, PDF and other formats), 3D virtual models, infrastructure maps, linear and volume measurements, cross-section profiles, change profiles, crop health imaging and drainage mapping.
Through the integration of ground-based electromagnetic conductivity (EC) sensors, we can go much further than other drone operators to provide extensive soil and vegetation analysis to support material change of use, land clearance applications development applications and farm restructure projects.
Our clients are primarily in construction and development, environmental management, land management, commercial real estate and rural industries. Scroll down to see more about the skills and experience that make us your ideal aerial imaging partner. Contact us for an obligation free quote or to discuss your requirements.
Queensland Drones is passionate about aerial photography and aerial video. We operate the latest UAV photography and video platforms to bring you crisp, high definition photography and ultra high-resolution cinematic video from places you've never been able to get to before. Our 20 MP panoramic photographs and 4K video at up to 60 FPS will blow you away!
We have the skills and experience to turn your aerial photos and aerial videos into something truly special. Our rates are affordable and there are no hidden costs. We can operate where uncertified operators can't fly! We are CASA-certified and fully insured for your protection.
Contact Us for an obligation-free quote or find out more about our aerial video and photography services.
Queensland Drones creates precise orthographic maps and 3D models of construction sites and development sites using high definition aerial imaging (photogrammetry) and precisely geo-referenced ground control points. We are not surveyors, but we use survey-grade positioning and can work in collaboration with your surveyors or engineers to deliver fast, low-cost survey data for site planning and measurement.
For construction site managers we can deliver precise cut-and-fill volume calculations and measure changes in volume over time to validate the contractor costs for earthworks. We can also provide 3D models to import into your BIM and CAD systems to fast track the design process.
Precision aerial mapping can be delivered in a matter of days, at a fraction of the cost of traditional methods. Our aerial inspections are fast, safe and don't require expensive elevated work platforms.
Precision aerial mapping supports precise linear measurement, volume measurement of stockpiles, measurement of embankment slope and breaklines and more. Precision aerial modelling of finished projects supports detailed comparison of as-built structures to architectural plans.
Contact Us for an obligation-free quote or find out more about our aerial mapping and 3D modelling services… 
Queensland Drones specialises in precision aerial contour mapping of greenfield and in-progress development and construction sites, providing accurate topographical mapping and modelling at intervals of 0.25m, 0.5m or 1m even on steep and heavily treed sites.
We are not surveyors, but we use survey-grade positioning and provide extensive accuracy validation for our models. We can work with your surveyors and engineers to ensure our results are fully certified for use in your development applications, planning, design and compliance processes. We use industry-standard survey tools to ensure the accuracy of our surveys to as little as 15mm horizontal and 30mm vertical. We can also incorporate your existing survey marks and produce outputs to local projection coordinates and standard geographic or UTM coordinate models.
For urgent projects, Queensland Drones can usually create quick contour maps of most locations in South-East Queensland based on our library of existing aerial data. These economical quick models can typically be delivered within 2-3 working days, have an accuracy of about 30cm horizontal and 50cm vertical and are useful for broad planning and preliminary design purposes. They can be calculated even on inaccessible, heavily vegetated or rugged development sites.
Contact Us for an obligation-free quote or find out more about our aerial contour maps for building, construction and development… 
Queensland Drones specialises in commercial real estate photography, construction progress photography and development marketing photography. We use the latest aerial photography platforms and specialist photographic techniques including panoramic photography, high dynamic range (HDR) photography and multiple bracketed exposures to ensure the best result every time.
We provide high-definition aerial photography and high-resolution cinematic aerial video for development marketing, together with progress photography to keep your investors informed.
We can even provide background imagery to be imported into your BIM and CAD systems and used to enhance your design models.
Contact Us for an obligation-free quote or find out more about our construction and development photography services… 
Queensland Drones works with news crews, media organisations, production companies and film-makers to capture and deliver high quality cinematic video to support local and national news, documentaries, corporate videos and even feature films.
Our national network of qualified and experience aerial media operators means we can put a drone in the air almost anywhere in Australia, usually within hours and certainly within one working day.
Contact Us for an obligation-free quote or find out more about our Aerial News, Media and Film-Making Services… 
Queensland Drones provides high-definition aerial asset inspection services for energy companies, telecommunications companies, water supply and utility companies, forestry companies, local governments and anyone else who needs fast, safe inspection of critical infrastructure.
Our industry-standard drones can quickly and safely reach places which would otherwise require extensive safety assessments, expensive safety equipment, specialised platforms, scissor lifts and other complex arrangements. We can survey critical infrastructure in place, within minimal disruption to normal operations.
Our aerial asset inspection services are typically faster, cheaper and much safer than traditional inspection methods. We are CASA-certified, fully insured for your protection and operate a comprehensive job safety assessment model. We can also integrate into your site safety processes as required.
Contact Us for an obligation-free quote or find out more about our aerial asset and infrastructure inspections … 
Queensland Drones can quickly inspect the entire roof of your home, unit block, apartment building, industrial complex or even high rise office or apartment building, providing fast and accurate data to inform insurance assessment, repair quotes and routine inspection requirements.
Our standard aerial roof inspection package includes a high-resolution top-down photo of your entire roof, up to 10 high resolution close-up photos of specific areas of your roof where damage is suspected, and a high-resolution video tracking across your entire roof. Or we can tailor a custom package to meet your specific needs.
Contact Us for an obligation-free quote or find out more about our drone roof inspection services … 
Queensland Drones provides a range of specialised aerial inspection services to meet the needs of environment managers, environmental protection groups and government agencies. We can provide fast and accurate data and imagery to support environmental assessments and development applications.
We provide high-resolution aerial photography, high-definition cinematic aerial video and large-scale geo-referenced aerial mapping services into even the most difficult locations, ensuring fast and reliable capture of evidence to support environmental management reports and recommendations.
We have the skills, where required, to provide a complete vegetation assessment and identification service to support development applications and environmental protection assessments.
Contact Us for an obligation-free quote or find out more about our aerial environmental monitoring surveys …
Queensland Drones specialises in aerial photography of large commercial, rural and acreage real estate to show off your property to its full potential.
We can produce high-resolution orthomosaic photographs of your entire acreage or rural property and even create infrastructure maps to help you manage your farm assets and promote your farm or acreage property to prospective buyers.
For families leaving the land or moving to smaller properties, we can provide high quality photographic and video memories of your property that will last a lifetime.
Contact Us for an obligation-free quote or find out more about our Rural and acreage real estate services… 
Queensland Drones works with farmers, growers, agronomists and crop consultants to develop high-value crop management and farm infrastructure management packages that meet the needs of a modern, progressive agricultural sector in Queensland.
While NDVI crop health mapping is still at the core of our service offering, we can now assist growers to better understand more than 10 layers of critical data impacting the health of crops and the land's capacity to deliver better harvests and productivity, including soil structure, yield prediction, plant counting, water flow modelling and erosion control modelling.
We can even provide ground-based precision soil conductivity mapping and soil characteristic mapping using state-of-the-art EM38 MkII sensors pulled by low-impact lightweight quad bikes to minimise compaction. We have the skills and experience to conduct EM soil mapping with crops in-place in most cases and to provide physical soil sampling and testing to ground-truth our results.
Contact Us for an obligation-free quote or find out more about our precision agriculture services for farmers and growers …