How (not) to make your fortune as a drone pilot
About three years ago now, the Australian edition of the Huffington Post online newspaper claimed that being a drone pilot would be the "job of the future" and that drone pilots could expect to earn $100,000 to $150,000 a year. This claim, and others like it, set a lot of people on the path to getting the Remote Aircraft Pilot's licence (RePL) and/or their Remote Aircraft Operator's Certificate (ReOC).
(If you like this article, please give us some love on Facebook by commenting, sharing or at least giving us a "Like" for our trouble… if you're in need of drone services, please check out our Drone Services page.)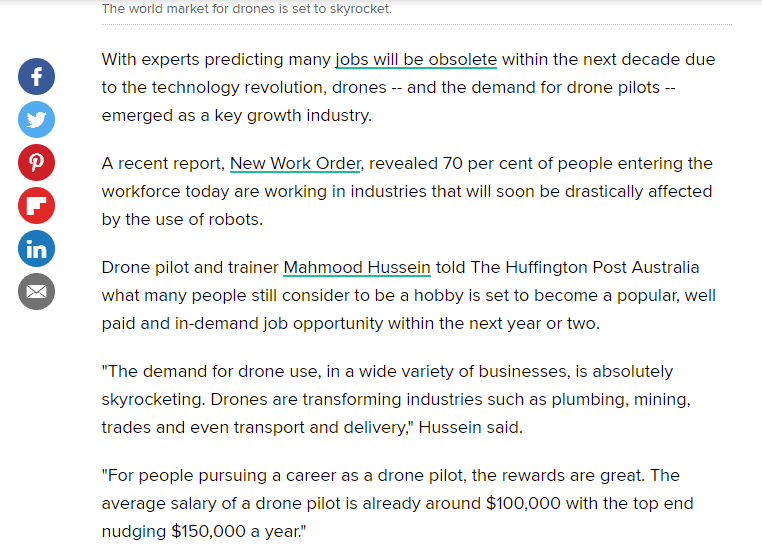 When you read articles like this it pays to look at who is making the claims. With all respect to Mr Mahmood Hussein (who I've never met and know nothing about), he is a drone pilot trainer who has a vested interest in more people wanting to become drone pilots because that's how he makes his money. With all respect to FYA (Foundation for Young Australians) they are a bunch of optimistic young people looking for issues to get themselves media coverage about. That's not to say they did not research this well, but there was a lot of hype around drones in 2016 and it's reasonable to expect they got caught up in it like everyone else.
The purpose of this post is to set some more realistic expectations about what drone pilots can and do earn in Australia, and why. If you're going to become a commercial drone pilot, it pays to know what the end of the journey might look like so you can reasonably decide how much time and money to spend getting there … and you will spend a lot of both.
As the moderator of Australia's largest online forum for commercial drone operators, I often tell newcomers to the group that "… if you expect to make money from flying a drone, you're fooling yourself". Now why would I say that, when I have a successful commercial drone business of my own?
Well, it's pretty simple really. Drone technology is getting smarter and smarter. Anyone can buy a DJI Mavic Pro 2 and it will take amazing aerial photos and videos with little to no real skill other than how to control it and how to frame a scene. Anyone can go and buy a DJI Phantom 4 RTK from Harvey Norman and a subscription to DroneDeploy and capture images that can be turned into fairly accurate aerial maps using DD's mission planner.
There is little to no real skill required to fly and use these drones at the entry level. And if there is little or no skill required, it makes sense that there will be a lot of people trying to do it, a lot of price competition and not much margin for profit.
Entry level operators, in my opinion, don't do a very good job. I expect to cop some criticism for saying that, but you cannot expect to buy a photography drone and compare yourself with an experienced professional photographer or videographer. And you can't expect to buy a mapping drone and an online subscription and compare yourself to a surveyor or a GIS mapping professional. But to be honest, many customers have no idea what the difference is, so you will probably get some work, at least until they realise they can do just as good a job for themselves and no longer want to pay you.
Anecdotal experience tells me that real estate drone operators, if they are getting any work at all, are getting about $30-40 an hour, sometimes less. Drone pilots taking images and video for drone service brokerage companies like Drones.io and DroneBase and the like are typically earning $50 an hour or less. Drone pilots contracted to insurance companies and the job brokers who organise photography for them are typically earning about $40 an hour.
Let's say you are flying your drone under your own ReOC (commercial operating certificate) for a drone services broker and you're getting 30 hours of work per week from them (this, in my opinion, would be extraordinary, but let's go with it). Your gross annual income (allowing that you want to take 4 weeks holiday a year with your family) is about $72,000. Sounds ok if you don't have a big mortgage or teenage children. But it's not all yours.
Out if this you need to pay your vehicle costs, the depreciation on your equipment investment, the amortisation cost of your RePL and ReOC if you have them, your insurance costs if you have it, etc.
By the time you got your ReOC you've probably invested $3000 in training, $1000-2000 in getting your manuals checked and getting tested by CASA for your ReOC, $3000 or more on equipment, and if you're smart you've also spent at least $1000 on setting up a company (so if you make a mistake, it doesn't cost you your home and savings). So your capital investment to get started is about $9-10,000 minimum assuming you only have one drone and work from home. You might also have spent $1000-2000 setting up a website, $1000 on business cards and flyers, etc., but let's leave those aside for now.
Your non-drone investment is $7000. You need to cost that into your operations in terms of $7000 that could be reducing the interest on your mortgage or at least earning some interest in a fixed term deposit at, let's say, 4% per year. So the cost of that money is $280 per annum.
Your drone investment is $3000 and the drone has a working life expectation of about two years, so you need to depreciate it at $1500 per year. That's the opportunity cost of your equipment.
Your CASA ReOC will have to be renewed at the end of your first year and this will cost you at least $400.
In most cases you will need to carry $10-20 million of public liability insurance (mad if you don't as one accident could cost you millions in damages). The cost of UAV public liability insurance for a single pilot and drone is about $1400 per year (or you could pay maybe $400 per job for casual PL insurance).
Assuming you use the family car to get to your jobs and back, that's costing you, let's say, 50c per kilometre (depreciation, extra insurance, fuel, tyres, tolls, rego, etc). That's about $10,800 per annum (assumes 15 jobs per week, 30 km round trip per job average).
If you're using DroneDeploy to process mapping jobs, you're up for about $1750 per year for that basic subscription, but I'll leave that out for now as that implies your capital costs are a lot more and your hourly rate might be a little better.
Your nett annual income before tax from your thriving full time small drone business is about $57,600 p.a. – about $1,100 per week before tax or $36.00 per hour. That's the reality of what you earn for flying a drone.
The only way you sustainably increase this income expectation is to have special skills or equipment that customers are willing to pay more for. For example, perhaps you're a qualified and certified land surveyor, or you're an experienced commercial photographer, or you have a lot of experience working on building sites or mine sites. But that most likely means you're getting a new job, not earning your living as a drone pilot.
You could reduce your overheads by operating in the Excluded (Sub 2kg) Class of drone operator, which is allowed by CASA. This class means you are limited to small drones like the Phantom 4 or the Mavic Pro, you can't fly within the restricted airspace around airports and the like, you can't fly within 30m of people, buildings or cars, etc. It's all detailed on the CASA website, so I won't repeat it here. You are also limited in your ability to get public liability insurance, so you can't do drone work for any publicly listed company or government body and you are fully exposed to damages claims if you have an accident causing injury, damage to property, etc.
All this is a bit theoretical and your experience may be better than some. You may have found a small niche scattering ashes after funerals, mapping cemeteries, counting cars for a car hire company or counting cattle for a farmer. If so, good for you and I wish you good luck in your business. But keep in mind that all these things will become much easier to do also over the next 12-18 months and competition will become more fierce. Eventually, customers will be able to do these things at the touch of a button, so don't rely on them for long term business.
If you want to earn more than $30-35 an hour for your efforts, think about using your drone pilot skills to get a new job. For example, if you become a drone pilot in the army, you can earn $65-70,000 per year and they'll pay for all your licences and equipment. Warning … you might be required to kill people.
That's the reality of making your living (certainly not your fortune) as a commercial drone pilot. If anyone tells you different, examine their motives.
What about my business then? Is it not making money? Yes it is, but we've spent nearly four years developing GIS mapping and agricultural mapping skills and we've partnered with some seriously qualified people to deliver our services. We've invested in some seriously capable equipment and we've had to get more certifications to be allowed to fly it. We do ok, but we're still a long way from making our fortune in the billion dollar drone services market.
Working as a drone pilot
From time to time we contract drone pilots to help us on larger jobs or to do work that's too far away from our base (to keep costs down for customers). In these cases, we might pay $50-60 an hour for someone to fly their own drone and provide us with the images. If it's a particularly skilled activity like aerial cinematography or aerial mapping, we might pay $80-100 an hour, but that's rare.
If we employ a full-time entry level drone pilot in our business, we typically pay $50-60,000 per annum plus super. They are flying our equipment under our licences and insurances (except they need their own RePL). If we engage a pilot on a casual basis to fly under our ReOC, with our equipment, we typically pay $40-50 an hour (about what you'd earn nett in your own business, so that's fair).
Please feel free to add your comments below. I'm interested to hear about your experiences trying to make it in this industry and what you were told when you sat for your RePL.
Don't forget to give us some love on Facebook or LinkedIn if you can, so we can take more time to write more articles like this …
Comments are closed.