Geospatial Services
Our Geospatial Services Can Help You Do More With Drones
Queensland Drones doesn't just fly drones, we also deliver a range of high value geospatial services to our clients to derive value from the aerial imagery we collect. Our geospatial services deliver value-added data to the mining, precision agriculture, construction, engineering and environmental management sectors, to name just a few.
Using advanced Geospatial Information Systems (GIS) software and skilled GIS analysts, we turn our aerial imaging (or yours) into meaningful deliverables ready to be consumed within your CAD, BIM, design or other information systems. This sounds a bit complicated, so let us explain …
UAV Image Processing
Need to advance your commercial drone services to the next level? Bought a drone but not getting what you expected from DroneDeploy or Pix4D? You're not alone. Queensland Drones geospatial services team helps many smaller UAV operators compete with the big guns by assisting them to develop professional UAV image processing capabilities. We also assist in-house drone mapping teams to develop advanced mapping capabilities.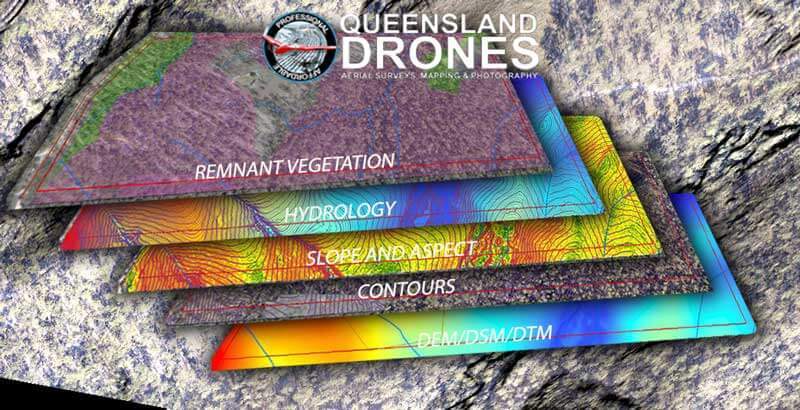 Whether your clients need precision geo-referenced orthomosaic mapping, ground classified DEM (DSM/DTM), smoothed elevation contours, slope and aspect mapping, feature and breakline identification, hydrological analysis, vegetation mapping, weed mapping, crop health mapping or any type of advanced GIS output, we have the skills and software to extract what you need from your UAV imagery. We also have the experience to coach you in how to get the most from your UAV mapping drones.
Our geospatial services team can also process LiDAR data, thermal data, radiometric data and many other advanced sensor outputs. If you're not sure, just ask us. Our UAV image processing services are much more affordable than you might think.

Finding Correlations Between Data Layers
Queensland Drones has extensive experience in comparative data analysis and can assist you to find useful correlations between different kinds of geospatial data to identify possible causes or contributors to specific issues.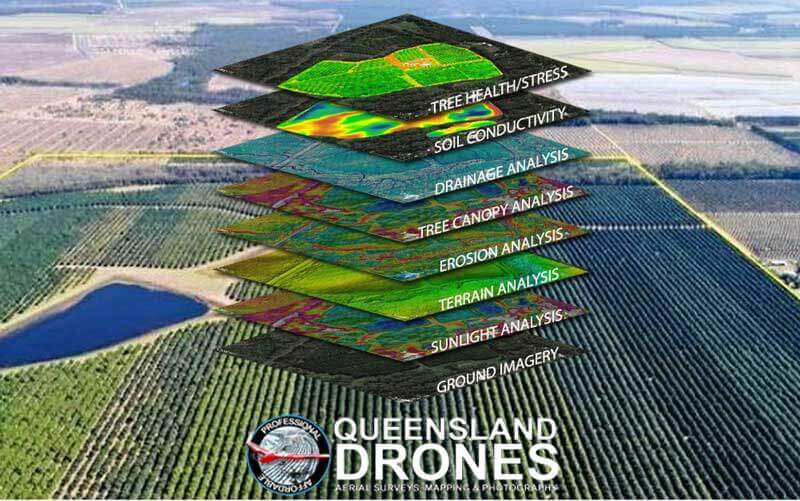 Our geospatial services team can accurately process all kinds of geospatial data and provide layers ESRI/GIS maps for your team to inspect and analyse. Where required, we can also arrange complementary soil conductivity mapping and soil testing to enhance analysis outcomes.

Multispectral and NDVI Processing
Our geospatial services team has almost five years experience in processing and analysing near infrared, multispectral and hyperspectral imagery to derive a range of management information for crops, orchards and vineyards. You can benefit from our extensive experience by engaging Queensland Drones to process and analyse your spectral imagery.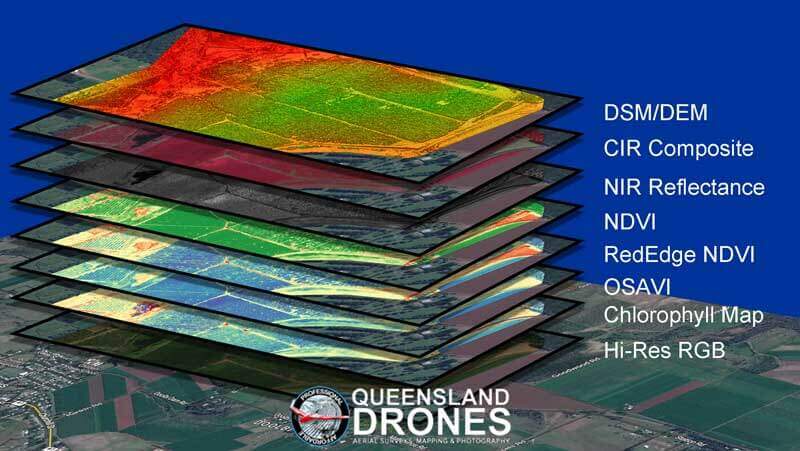 We can turn your multispectral imagery into processed layers, ready to be used for ground truthing and planning, into prescription maps for uploading into your GPS controlled harvesting or spraying equipment, or we can provide raw spectral orthomosaics (red, green, blue, rededge and nir reflectance) for processing and further analysis in your own agronomic software systems.