Queensland Drones provides a range of aerial golf course survey services to assist golf course operators, groundskeepers and managers. We offer three key golf course survey services:
Golf course turf surveys
Golf course contour mapping
Golf course fly-over videos

Golf course turf surveys

NDVI imaging on a golf course can identify a range of issues including compaction (turf hardness), lack of moisture (dryness), excessive moisture (wetness), fungal infestation and weed problems. We don't claim to be able to tell you precisely what is affecting your turf, but we can direct your greens keeper quickly to the right places to be examining.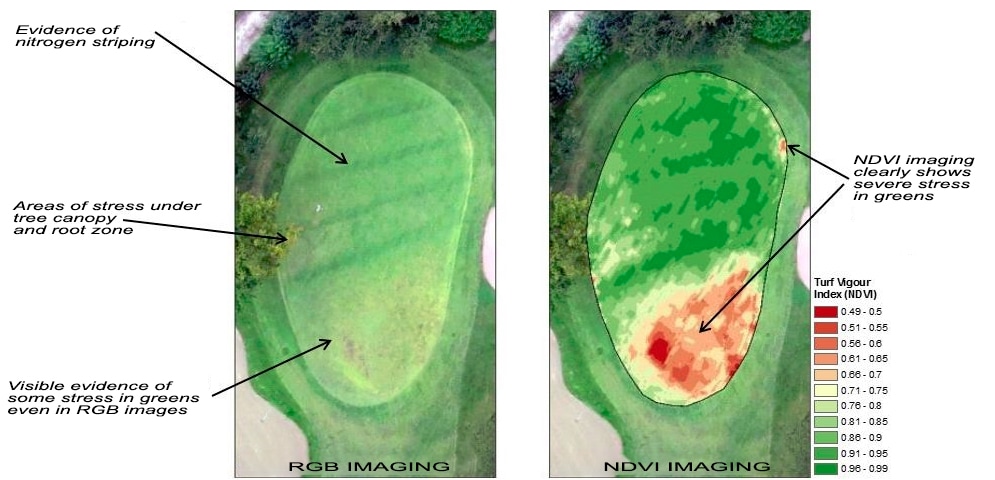 Depending on the size and location of the course, we may use either high range fixed wing UAVs or close quarters quadcopter UAVs. Either way, the data is captured quickly and efficiently, with minimal interruption to normal course use and you get to keep the data from each flight on your computer system or in readily accessible cloud storage.
Queensland Drones can also generate GPS-tagged GeoTIFF images of your golf course NDVI data that can be put onto your iPad or other tablet device and allow you to see exactly where you are in relation to issues identified in the mapping.
If you are using GPS-enabled spreaders on your golf course, we can even generate shape files (prescription maps) that can be loaded into your spreader to direct the precise amounts of fertiliser being applied in various parts of the course to ensure accurate nutrition.
Golf course contour mapping
Queensland Drones can map the contours of your golf course using both standard and near infrared sensors to create maps that highlight how water flows across the course, where terrain can be used to assist in course design or redesign, sources of weed infestations, draining problems, natural water courses and many other management issues.
Our imagery can be easily converted into 3D mapping models that you can rotate in 360 degrees to see the course from all different perspectives and aspects, or even do a virtual "fly through" of any part of the course.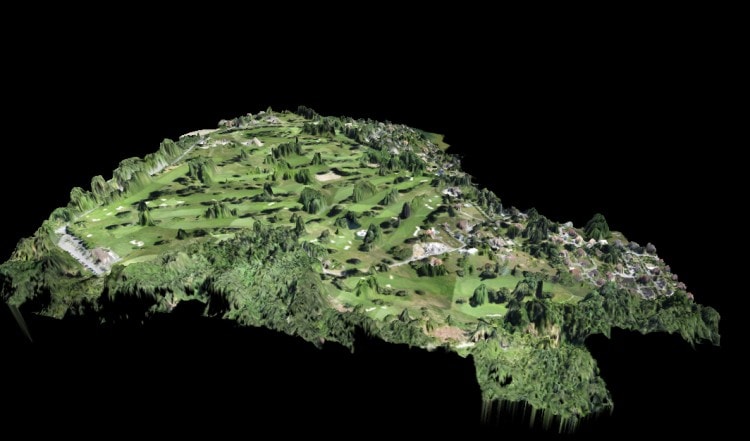 Golf course fly-over videos
Queensland Drones can shoot aerial photos and videos of your golf course for promotional purposes including whole course fly-overs, full course maps, fairway fly-overs, fairway maps, orbits of approaches and greens, etc., to your specific requirements.
You can use these aerial photographs and videos on your website, in promotions in your club house, for instructional purposes in the pro shop, and we can even create geo-maps that your golfers can load into their golf carts or onto their mobile devices to show exactly where they are on the course at all times.
We can create virtual fly-overs of every tee, fairway, approach, bunker and green on your course and we can even add professional voice-overs if you need them.
Request a Service or Quote