Farm Mapping, Terrain Mapping, Infrastructure Mapping and More
Farming is a risky business. Most farmers can manage those risks because they carry an intimate knowledge of their farm, the strengths and weaknesses of the soil and the history of growing specific crops in that soil over many years.
But it can be hard to scale that knowledge when you grow your farm, and even harder to pass on those years of knowledge and experience to a farm manager or to the next generation.
Queensland Drones works with farmers, graziers, agronomists, crop consultants, seed suppliers, irrigation consultants and other agricultural specialists to develop and deliver innovative, high value aerial and ground services that help to scale and systematise farm management practices.
We recognise there is a lot of hype and vague science going round about the use of drones in agriculture and we have been very careful to continuously test and redevelop our agricultural services to ensure they remain valid, valuable and backed by real science. That's why we've structured our services for agriculture around the issues that really matter to growers, and backed them with real science.
If you already have drones on your farm or property and aren't able to use them to their full potential, give us a call to talk about how we can assist you to do that.
Our core services for agriculture include:
Inform land use decisions
We can provide detailed and precise mapping of the elevation contours, soil patterns, vegetation patterns, water flows, drainage lines and other factors you need to know to plan how to grow or restructure your farm and incorporate new fields, how to contour your land for your particular crop requirements, how to minimise erosion and retain good soils, and where you can legally clear more land for agriculture.
Better understand your soil
We employ a combination of regional soils data, EM soil conductivity mapping, farm ecosystem analysis and physical soil testing to provide you with a detailed understanding of the soil types, soil structures, water holding capabilities, nutrient levels and cropping sustainability factors across a field or your entire farm. This data can guide you to ensure your team are managing the soils according to their needs and to their water and nutrient absorption capabilities.
Identify and map high yield zones
We can provide reliable data to help you build and manage fertility zones that inform how you organise your fields for planting, what you grow, how you fertilise and how you water your crops for the most efficient inputs and the most sustainable yields.
Monitor crops for plant health
We can regularly fly your fields using advanced sensors to provide valuable in-season data about stand counts, plant health, pest and disease pressures, nutrition and irrigation issues and more. We can also help you to better understand the drivers of these issues by overlaying data from different sources.
Get more from your GPS-controlled farm equipment
In consultation with your agronomist, we can turn your soil type mapping and crop health mapping data into zoned GPS maps to support variable rate seeding, variable rate fertilising and variable rate pesticide and herbicide application you can utilise using your existing GPS-controlled tractors and equipment. In conjunction with your agronomist or crop consultant, we can show you how to use soil pH and nutrient zone mapping to ensure you are adding just the levels of lime, gypsum, phosphorus, nitrogen, potassium and other nutrients that your soil and crop need for maximum yield. This alone can save up to 25% of crop input costs while promoting more uniform crop yields in variable soil types.
Better manage seed and fertilizer trials
We can show you how to better plan field trials based on soil characteristics, and how to directly compare the vigour and health of different trial plots throughout the growing season, providing the data you need to make better informed decisions about the results of your trials.
Plan your drains and dams
We can help you gather the critical information you need to understand how water flows into and out of your property, change how water flows across your property, plan new drains and catchments, site new dams and irrigation points.
Get the most from your own drones
If you prefer to fly your own drones, we can teach you how to use your drones for maximum impact and provide remote processing support to ensure you are getting the most intelligence and knowledge possible from your imagery at all times.
About our Precision Agriculture Services
Our services have been developed in consultation and collaboration with agricultural industry organisations and higher education institutions including Growcom (Hort 360 program), University of Queensland Gatton, CottonInfo, GRDC and Qld Dept of Agriculture and Forestry (DAF).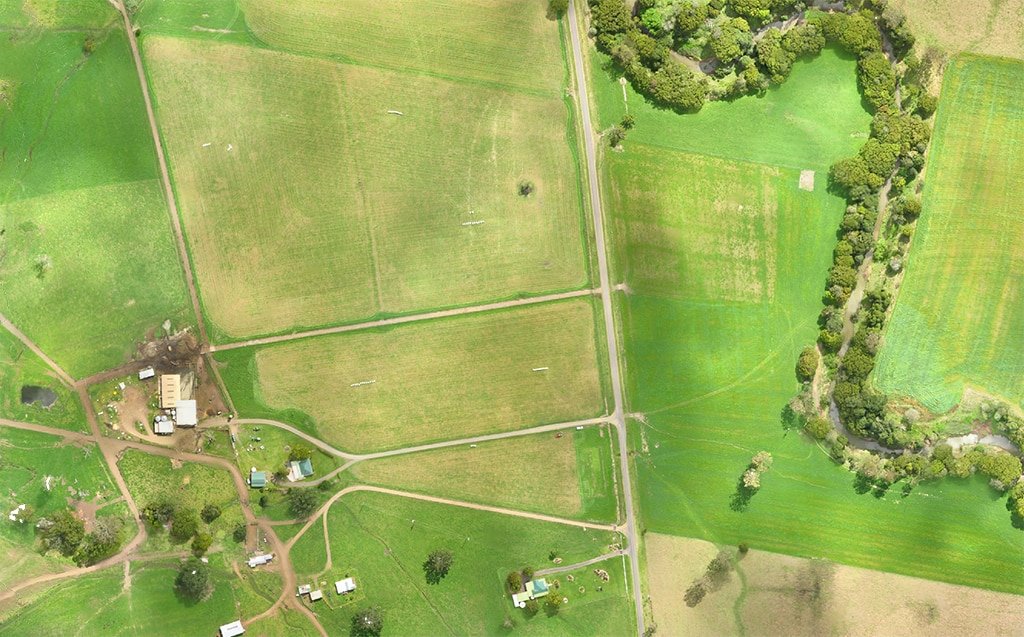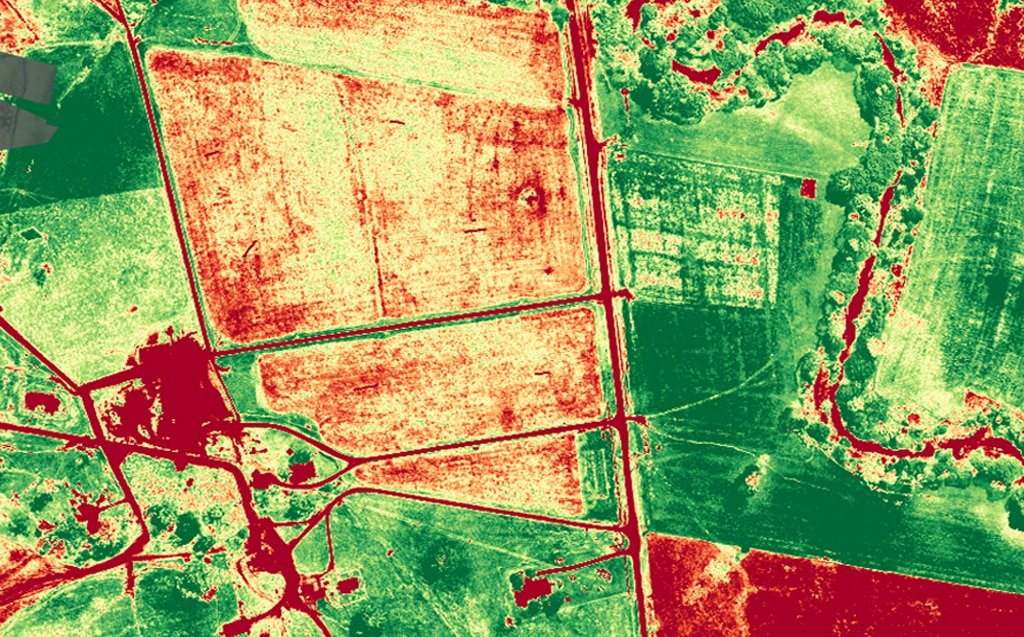 Pull the slider left and right to see the original photo and the NDVI mapping.
Our NDVI crop health mapping service provides valuable comparative health and growth data for crops at various stages of development, plant biomass estimation, relative plant vigour and comparative vigour and health across different trial plots. We can also include your yield data as a map layer. Combined with EM soil conductivity and soil testing data, it provides a valuable long-term data source for managing crops and field rotations.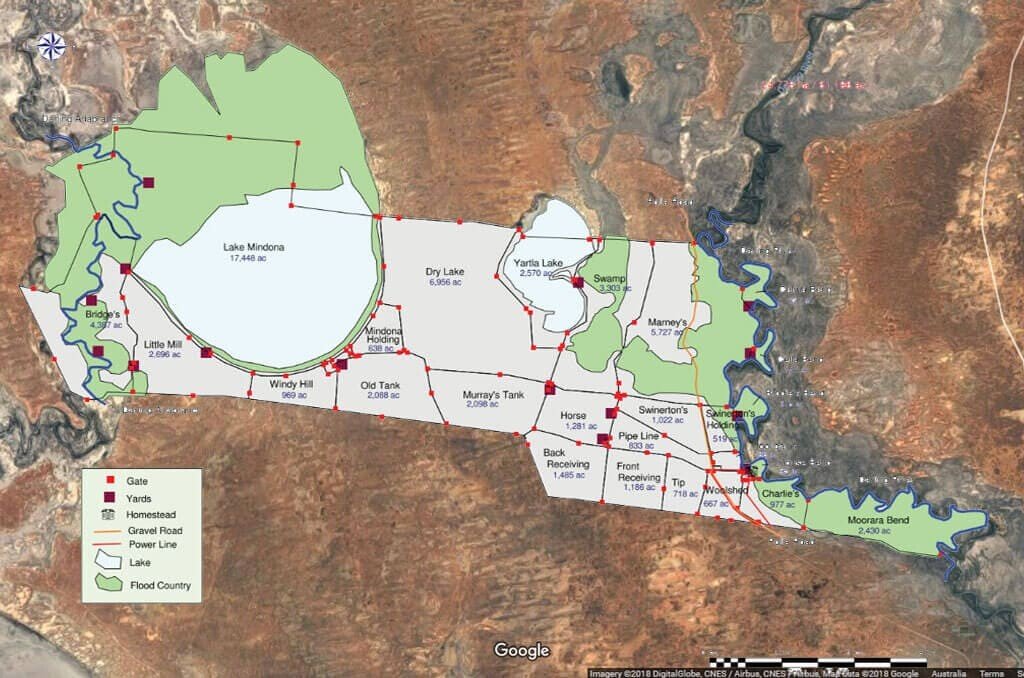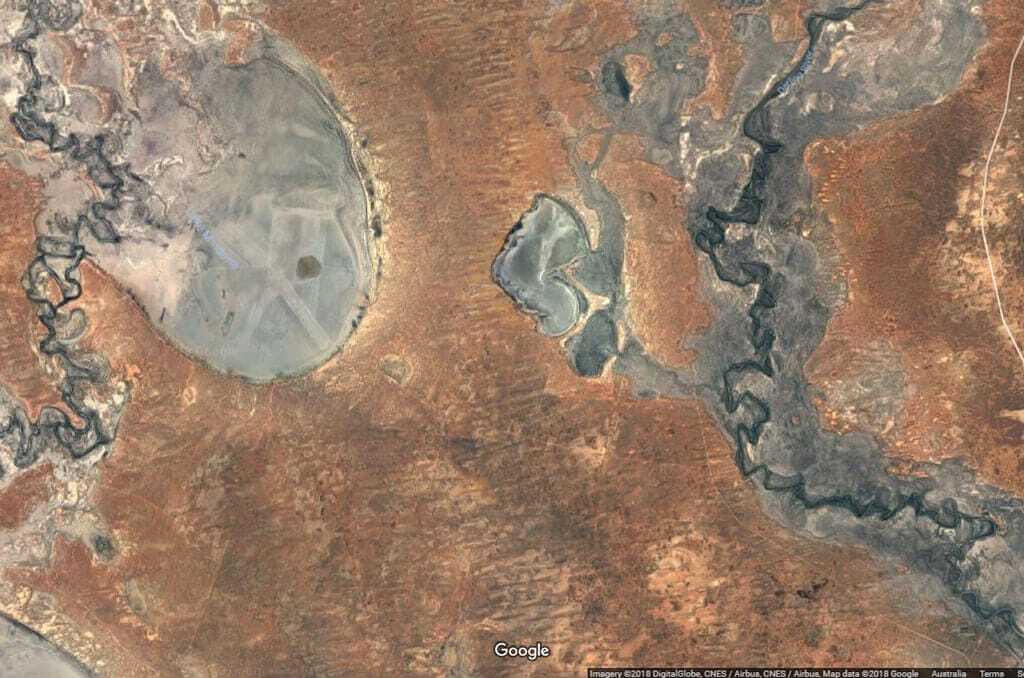 Pull the slider left and right to see the original photo and the infrastructure map.
Our farm infrastructure mapping service is invaluable for larger properties, especially cattle grazing properties which employ a lot of casual and seasonal labour. Farm infrastructure maps can be constructed to show soil types, paddocks and fields, roads and tracks, fences and gates, dams and water troughs, irrigation points, sheds and buildings, land use, power lines, cattle yards and more, including flood prone areas and emergency provisions.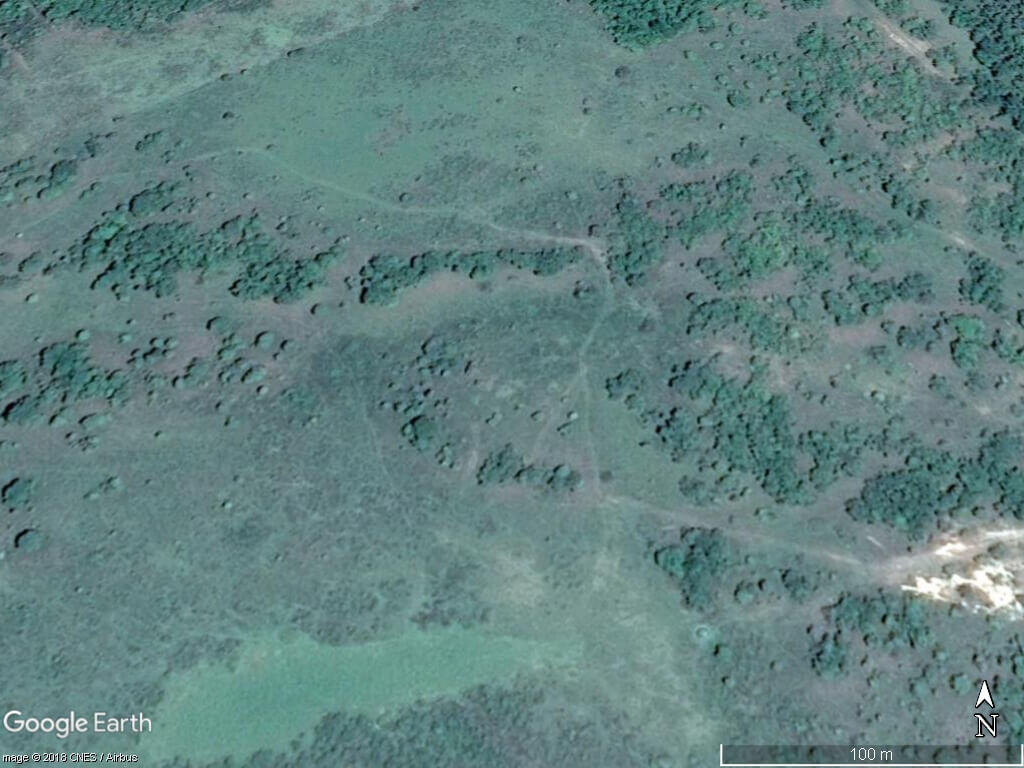 Pull the slider left and right to see the original photo and the 1m elevation contours.
Our precision topographical and contour mapping services provide accurate elevation data for even the most inaccessible areas. They are a great resource for planning roads and tracks, locating dams and drains, planning for shaping and contouring of new agricultural fields and much more.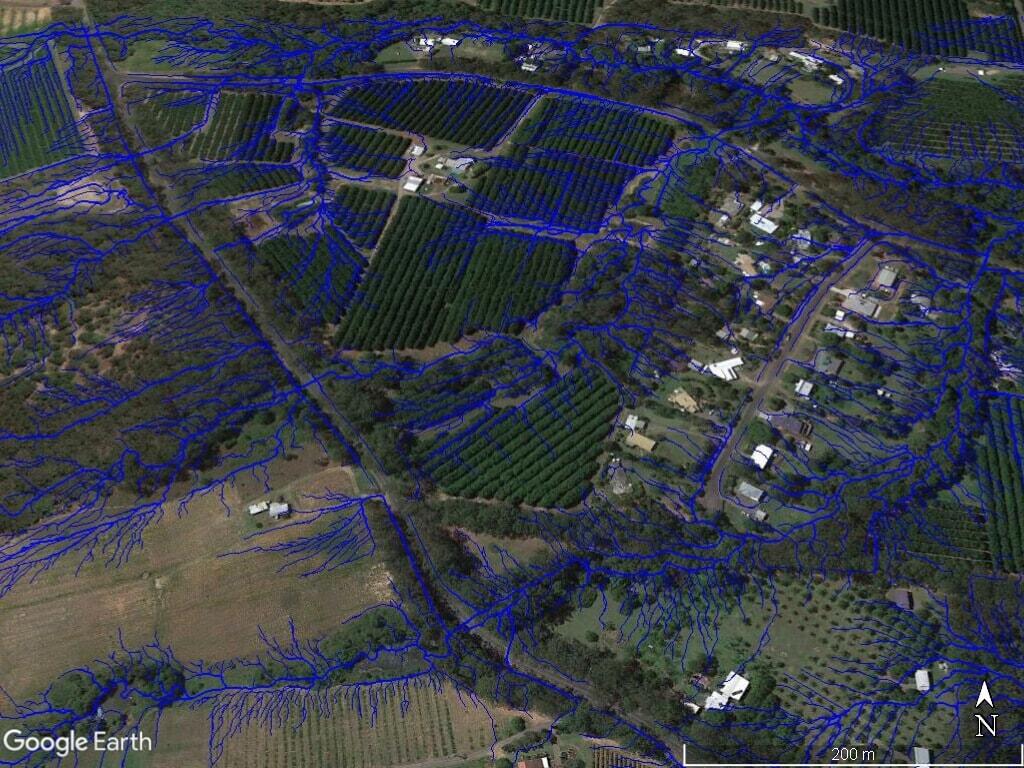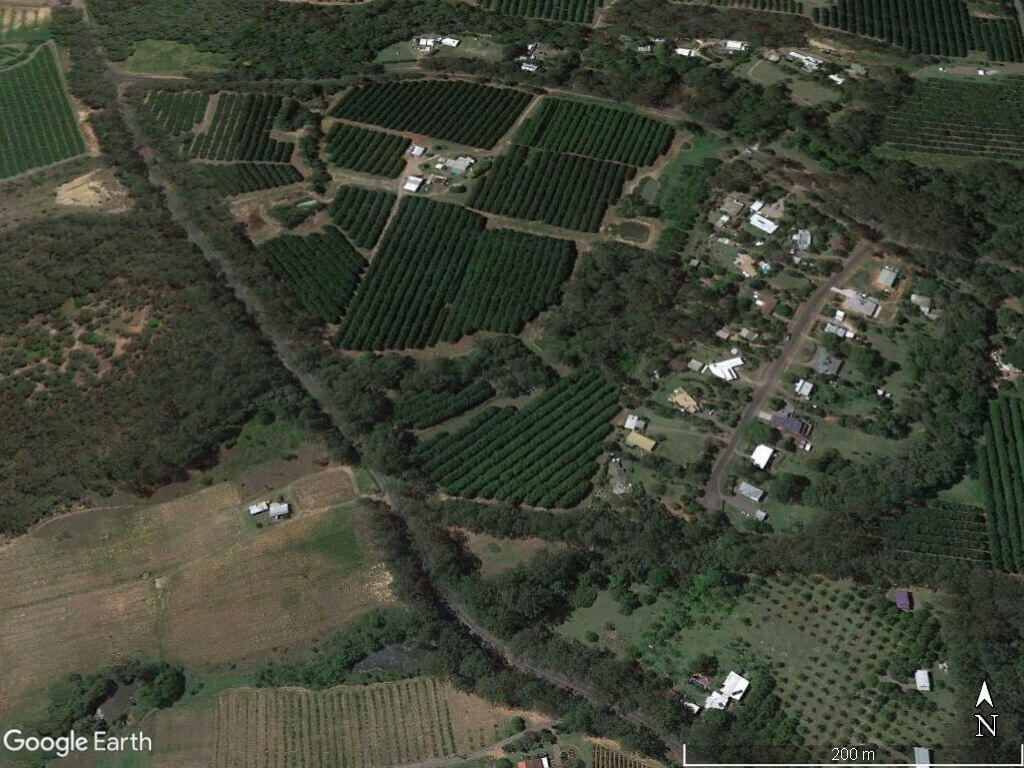 Pull the slider left and right to see the original photo and the water flow model.
Our water flow mapping and drainage analysis, based on precision elevation contours and digital elevation models, provides a detailed representation of water flows and water accumulations across a property (including neighbouring properties) to assist in the planning of drains and dams as well as managing soil loss through erosion. 
For farmers and growers who are considering reclaiming land or converting land for agriculture, Queensland Drones can provide a vegetation analysis report for your property, consisting of a current vegetation map showing the types of ecosystems on your property (not endangered, endangered, critical – VMAP); and a historic vegetation map showing pre-existing regional vegetation systems (useful for productivity indicators).
Contact us for an obligation-free discussion about your farm data requirements.