About our Precision Agriculture Services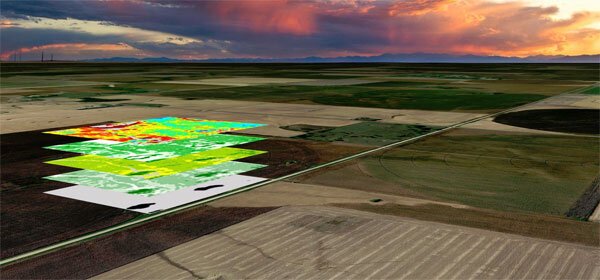 How Our Farm Mapping Services have Evolved and Grown
Our services have been developed in consultation and collaboration with agricultural industry organisations and higher education institutions including Sugar Research Australia, Growcom (Hort 360 program), University of Queensland Gatton, CottonInfo, GRDC and Qld Dept of Agriculture and Forestry (DAF). We are constantly working with other organisations to collaboratively develop and improve the services we offer to growers, agronomists and consultants.
Multispectral Crop Health Mapping
[twenty20 img1="12669″ img2="12097″ offset="0.5″]
Pull the slider left and right to see the original photo and the multispectral farm mapping data
While we started crop health farm mapping using NIR sensors to create NDVI maps, we soon discovered there are many shortcomings in this approach. One big one is that most NIR sensors cannot correct the data for changes in ambient light – e.g. data captured in bright sunlight vs data captured on an overcast day, or even data captured in bright sunlight in summer, compared to date captured in bright sunlight in winter. These changes can greatly affect how the data is interpreted and lead to misinterpretations.
Our multispectral crop health mapping service provides valuable comparative health and growth data for crops at various stages of development, plant biomass estimation, relative plant vigour and comparative vigour and health across different trial plots. We can also include your yield data as a farm mapping layer. Combined with EM soil conductivity and soil testing data, it provides a valuable long-term data source for managing crops and field rotations.
Our multispectral RedEdge sensor includes the latest DLS2 incident light sensor which reads the current lighting conditions and corrects the data captured to factor in a standard lighting level regardless of ambient conditions.
Find out Why Multispectral Mapping beats NDVI.
Aerial Farm Infrastructure Mapping
[twenty20 img1="12065″ img2="12069″ offset="0.3″]
Pull the slider left and right to see the original photo and the infrastructure map.
Our aerial farm mapping service is invaluable for larger properties, especially cattle grazing properties which employ a lot of casual and seasonal labour. Farm infrastructure maps can be constructed to show soil types, paddocks and fields, roads and tracks, fences and gates, dams and water troughs, irrigation points, sheds and buildings, land use, power lines, cattle yards and more, including flood prone areas and emergency provisions.
Topographic and Contour Mapping
[twenty20 img1="9827″ img2="9826″ offset="0.5″]
Pull the slider left and right to see the original photo and the 1m elevation contours.
Our precision topographical and contour mapping services provide accurate elevation data for even the most inaccessible areas. They are a great resource for planning roads and tracks, locating dams and drains, planning for shaping and contouring of new agricultural fields and much more.
Hydrology and Water Flow Modelling
[twenty20 img1="9830″ img2="9829″ offset="0.3″]
Pull the slider left and right to see the original photo and the water flow model.
Our water flow mapping and drainage analysis, based on precision elevation contours and digital elevation models, provides a detailed representation of water flows and water accumulations across a property (including neighbouring properties) to assist in the planning of drains and dams as well as managing soil loss through erosion.
Vegetation Analysis and Ecosystem Mapping
For farmers and growers who are considering reclaiming land or converting land for agriculture, Queensland Drones can provide a vegetation analysis report for your property, consisting of a current vegetation map showing the types of ecosystems on your property (not endangered, endangered, critical – VMAP); and a historic vegetation map showing pre-existing regional vegetation systems (useful for productivity indicators).
Contact us now on 07 3103 0566 to discuss your requirements or complete the form below and we'll call you back.
Request a Call about our Farm Mapping Services