A PARTNERSHIP MADE IN THE FIELD
Helping farmers to grow and develop the information systems needed to rapidly and consistently assess and prioritise what's happening in their fields and orchards. We're with you every step of the way.
AgriSpatial – Precision Agriculture Mapping Services
AgriSpatial is a new name in the agriculture drone services landscape, but we've been around for more than five years specialising in drone services for agriculture. You might know us as Queensland Drones.
We understand that farming is a risky business. Farmers and their trusted advisors don't just jump into every hyped up new technology that comes along. They prefer to rely on their intimate knowledge of the farm, the strengths and weaknesses of the soil and the history of growing specific crops in that soil over many years.
But it can be hard to scale that knowledge when you grow your farm, and even harder to pass on a lifetime of knowledge and experience to a farm manager, farm workers or even your children.
AgriSpatial works with farmers, graziers, agronomists, crop consultants, seed suppliers, irrigation consultants and other agricultural specialists to develop and deliver meaningful, high value aerial and satellite services that help to scale and modernise farm management practices.
We recognise the hype and vague science the use of agriculture drone services so we're very careful to always test the use cases for new agriculture drone services technology before we run out and tell farmers they need it. Because more often than not, they don't.
We continuously test and redevelop our drone agricultural services to ensure they remain valid, valuable and backed by real results. That's why we've structured our services for agriculture around the issues that really matter to growers, and backed them with real science.
AgriSpatial offers a small, well considered set of proven services to farmers and agronomists:
Precision Satellite Data that's precise, affordable and there when you need it.
Terrain Mapping that informs contour planting, dam planning and erosion control.
Crop Scouting that's fast, efficient and identifies the actual pest or disease, not just the location.
Multispectral Mapping that informs post-emergence plant counts, mid-season nutrition and yield estimation.
Irrigation Effectiveness Mapping that clearly identifies gaps, over-watering, blocked nozzles and leaking pipes.
Orchard Mapping that identifies the current health and contributing factors for each individual tree in your orchard.
Trial Plot Mapping that supports direct comparison of different seeds, fertilisers, nutrients and other inputs.
Farm Infrastructure Mapping that enables sharing of key knowledge about your property – tracks, gates, tanks, water points and more.
Drone Adoption Mentoring that makes sure you're getting what you need from your own drones on the farm.
If you're ready to talk real agriculture drone services with someone who knows what they're on about, give us a call and let's talk.
Contact us now  on 0439 383202 or complete our quick and easy request a quote form.
Need to know more? Here's some more detailed info about our agriculture drone services…
Farm Management Data Gets Real
AgriSpatial has partnered with Taranis Ag to deliver the most comprehensive and targeted farm management data ever offered. Give Tony a call on 0439 383202 for a demonstration tailored to your specific farm needs.
Precision Satellite Data
AgriSpatial has partnered with Taranis and Airbus to deliver complete earth satellite data – the right satellite data, from the right system, for every farm application. If you're looking for satellite data that's there when you need it (not just when the provider passes by) or very high resolution satellite data, we've got the solution you're looking for.
Our satellite data images your fields twice a week through the growing season, and allows you to look back through up to eight years of historical data to see what's changed, or if something might have happened before. And all that history is available to you from the moment you take up our system.
Because our satellite data is multispectral, you can access differentiated analytics to measure the biomass of your plants, the chlorophyll uptake levels, the ground temperature and much more. This is not satellite porn, this is real management information at your fingertips, continuously, at a price you can afford.
Ultra High Resolution Aerial Data
Because satellite imagery can sometimes be obscured by cloud for days or even weeks at a time (oh, if only it was rain), Taranis is cleverly developing a network of light aircraft operators equipped with multispectral cameras who can generate crop health data on demand at 8-12 cm resolution in most developed farming districts.
While this service is already providing on-demand data for almost 50,000 acres a day, we're still putting it together here in Australia so please be patient. But let us know if this is something you'd be interested in…
Rapid Crop Scouting with AI Detection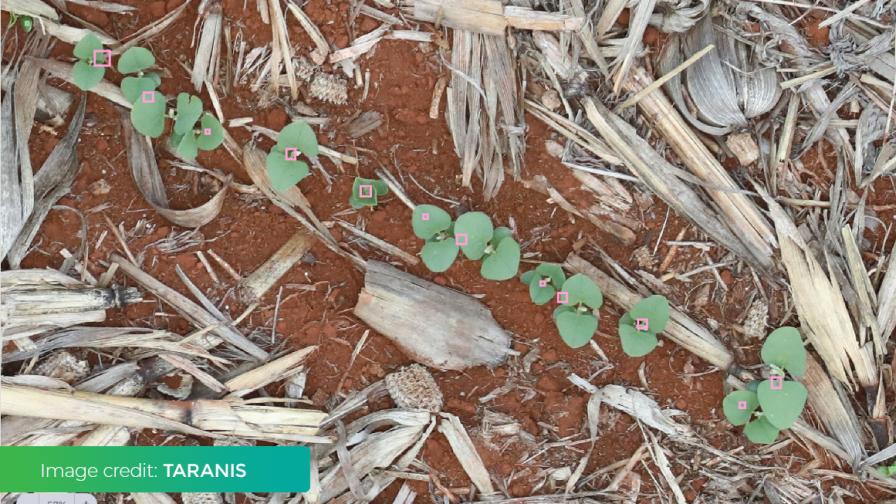 What if you could go out and inspect your crops or orchards with a magnifying glass and find every pest and disease around your farm? Well you could, but you'd never have time to do anything else, would you?
Enter AI2, the clever crop scouting technology from Taranis that uses "forward motion compensation" to take perfectly focused and extremely precise (0.3-0.5mm per pixel) photos at low flight altitudes (10-30m above ground) without motion blur, using a proprietary camera pod mounted on a drone.
AI2 can capture these crystal clear, ultra sharp images at up to 160 km/hour, so it's super fast, and the images are so sharp and clear that you can see a single insect on a leaf, or the chew marks it left behind before it crawled under the leaf.
All this supported by a deep learning image analysis engine that examines every photo and compares them with a reference library of over 100,000 examples of insects, diseases and other crop health issues … an engine that's been trained by 60 expert agronomists to accurately assess plant health and quality at the leaf level.
Accurate Plant Counting, Any Time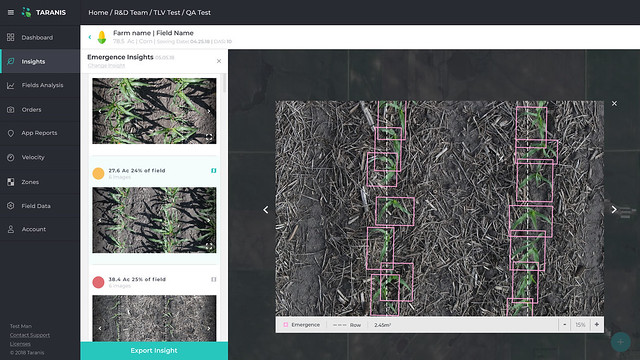 If we're scouting your fields with AI2 to detect pests and diseases, why not get an accurate plant count while we're there? Using the AI2 pod we can count your plants at any time during the growing season, from planting to harvest, with accurate row spacing, row length, canopy cover, plant height, stand count, average tree diameter, flower count and more.
Early Weed Detection
While we're there, why not also see what kinds of weeds are emerging in your crops and what threat they might pose. Taranis AI2 simultaneously collect weed emergence data by species and can help tailor the right herbicide treatment to deal with it. After treatment, we can even tell you how well the herbicide worked and how many, if any, resistant weeds remain in the field.
How Healthy Are Those Plants?
Crop health mapping is one thing, but while we're out there with the Taranis AI2 pod we can also tell you what nutrients are being taken up by your plants, how much water is available to them in the soil, the temperature of the plants, and detect subtle changes that might indicate closer attention is needed.
When flown close to the start of the growing cycle, our AI platform can also detect irregular growth patterns while there's still time to do something about it.
Support Where You Need It Most
It's all very well to have all this data on the desktop, but that's not really where you need it. That's why our data is also available on a mobile application that you and your team can take into the field and be directed to specific identified issues using GPS data.
You don't need to send an agronomist to every reported issue … get a farm hand to have a look and fill in a report on the mobile app that the farm manager or agronomist can review and decide how to prioritise issues for maximum effectiveness.  Scout reports can include photos, voice memos and other information collected in the field.
Everything In One Place, All The Time
What do you do with all this knowledge? How do you file it away so you can easily find it when you need it? How do you decide who can see it and when? How do you prioritise it, allocate it to team members and make sure it gets done?
Taranis not only gathers the data you need to manage your farm more effectively, it also provides the management and analytics platform to bring it all together and manage the data in space and time, so it's easy to find and easy to share when you need it. You can even give access to your chemical and seed suppliers so they can provide and implement crop treatments when required. 
Throw out that whiteboard and sticky notes, because you can allocate tasks right out of the Taranis platform and track them through to completion. You can review task history and even see what each team member has been doing with their time. Oh, and when you plan a task, you also get feedback on the predicted weather conditions …
Field Weather Forecasts
Ever wished there was a better, more localised weather forecast option? Well, there is. Taranis has developed a hyper-local weather forecasting model that's 75 times more granular than existing weather sites and services.
This is weather at the field level, and it's supported by field level planning which allows you to match the tasks you need to do in each field with each field's specific weather conditions. And you don't need to be watching it all the time, because Taranis will let you know when the weather is right.
No more time and money wasted setting up for planting or harvesting only to be foiled by the weather. We can't make it rain, but we can tell you when to expect the best planting conditions.
Multispectral Crop and Orchard Mapping
Rapidly scout and analyse issues with your crop or orchard using industry-grade aerial multispectral mapping services. Our multispectral mapping can deliver raw spectral data for deep analysis by your consultant agronomist (and if you don't have one who knows how to do this, we can recommend one for you). We can also deliver thematic analysis direct to you or your agronomist including NDVI, NDRE, Chlorophyll Map, OSAVI, NIR Reflectance, CIR Reflectance and DSM/DEM.
Monitor crops for plant health
We can regularly fly your fields using advanced sensors to provide valuable in-season data about stand counts, plant health, pest and disease pressures, nutrition and irrigation issues and more. We can also help you to better understand the drivers of these issues by overlaying data from different sources.
Get more from your GPS-controlled farm equipment
In consultation with your agronomist, we can turn your soil type mapping and crop health mapping data into zoned GPS maps to support variable rate seeding, variable rate fertilising and variable rate pesticide and herbicide application you can utilise using your existing GPS-controlled tractors and equipment. In conjunction with your agronomist or crop consultant, we can show you how to use soil pH and nutrient zone mapping to ensure you are adding just the levels of lime, gypsum, phosphorus, nitrogen, potassium and other nutrients that your soil and crop need for maximum yield. This alone can save up to 25% of crop input costs while promoting more uniform crop yields in variable soil types.
Better manage seed and fertilizer trials
We can show you how to better plan field trials based on soil characteristics, and how to directly compare the vigour and health of different trial plots throughout the growing season, providing the data you need to make better informed decisions about the results of your trials.
Plan your drains and dams
We can help you gather the critical information you need to understand how water flows into and out of your property, change how water flows across your property, plan new drains and catchments, site new dams and irrigation points.
Get the most from your own drones
If you prefer to fly your own drones, we can teach you how to use your drones for maximum impact and provide remote processing support to ensure you are getting the most intelligence and knowledge possible from your imagery at all times.
Contact us now  on 0439 383202 to discuss your farm management data needs, or complete our easy request a quote form.