Drone LIDAR Mapping for Surveyors and Engineers
As a commercial drone service provider who specialises in aerial photogrammetry (mapping the ground using stereographic photos captured from a drone), we've been refining and fine tuning our process to achieve accurate ground surface mapping across all kinds of terrain. In fact, our aerial mapping service can deliver very accurate ground contours in most conditions.
But sometimes aerial photogrammetry is just not enough. If the surface to be mapped is covered by vegetation – even crops or long grasses – finding the true ground elevation can be very challenging. That's why Queensland Drones also offers precision drone LIDAR mapping where required to achieve the outcomes our customers expect.
We are now working hand in hand with traditional surveyors and engineering companies to bring the power of drone LIDAR mapping to conventional survey methods as a way to leverage the skills and methodologies of traditional surveying.
There is no question in our minds that traditional survey methods used by registered surveyors, especially using RTK ground measurements and Total Station, are more accurate and reliable than conventional drone survey methods. But bring the two together and you have something extremely powerful and cost-effective that has not existed previously.
A three man traditional survey team equipped with RTK ground rovers and a Total Station can typically collect around 100 precise data points per hour in good terrain conditions. Typically the survey is going to cut across a number of assets like roads, footpaths, rail lines, drains, underground infrastructure, etc, that need to be integrated into the survey and considered in any planned design changes. So do you spend days or weeks doing traditional surveys to ensure everything has been captured? Or do you leverage UAV LIDAR mapping technology to make it all happen in a day or two?
For our UAV LIDAR mapping case study we're looking at a site where one part has already been surveyed but the works planned are the next stage of the development, including footpath and service extensions. There is a busy road running through the site which would present a risk for surveyors taking ground measurements along the road. There's a busy railway line and a couple of construction base camps that need to be considered. A traditional survey would require 3-4 days work just to get accurate levels along the road.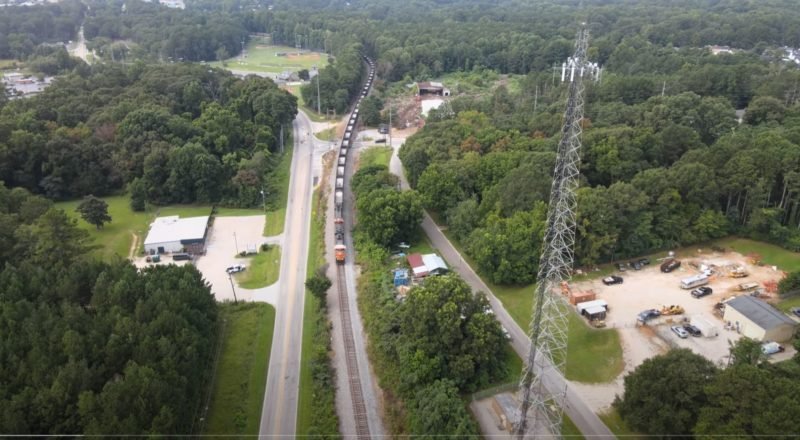 The UAV LIDAR-assisted workflow combines some traditional precision survey ground control points along the edges of the road and out into the hard surface areas nearby, with high density LIDAR data collected over 3-4 hours using an enterprise RTK-enabled drone. The plan is to duplicate the existing surveyed area and overlap into the proposed development area so we can easily check and validate the accuracy of the LIDAR data captured by the drone. Not only will this method allow us to capture the road and adjacent surfaces, but also a lot of other terrain that we could never capture in a 3-5 day survey timeframe using conventional methods.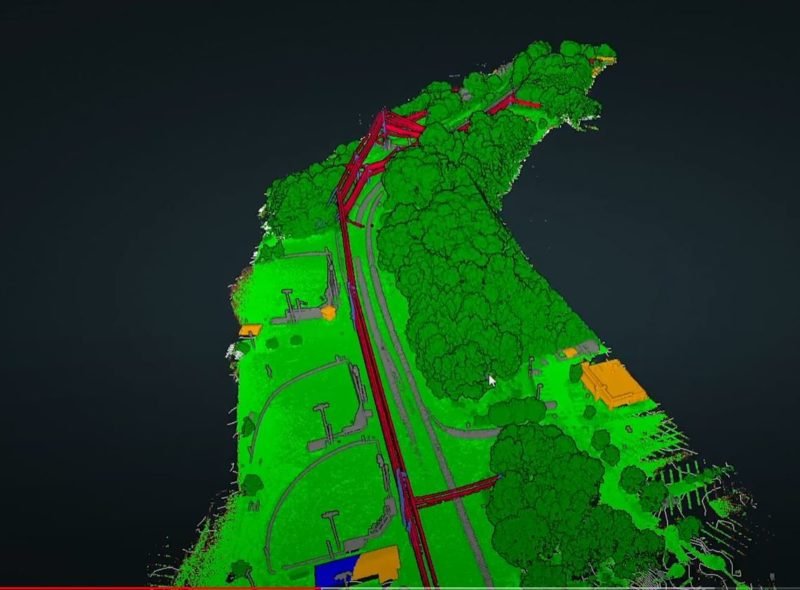 The data collected from the enterprise Drone LIDAR Mapping platform is processed into a dense point cloud which can then be analysed and interrogated to extract the essential data required for the survey. What's interesting to consider here is that where a traditional survey team might collect 100-200 data points over 3-4 days on site, our UAV LIDAR platform has collected around 450,000 data points in just 3-4 hours. But we're not interested in a pretty picture, we need to see data which can be validated using conventional survey methods.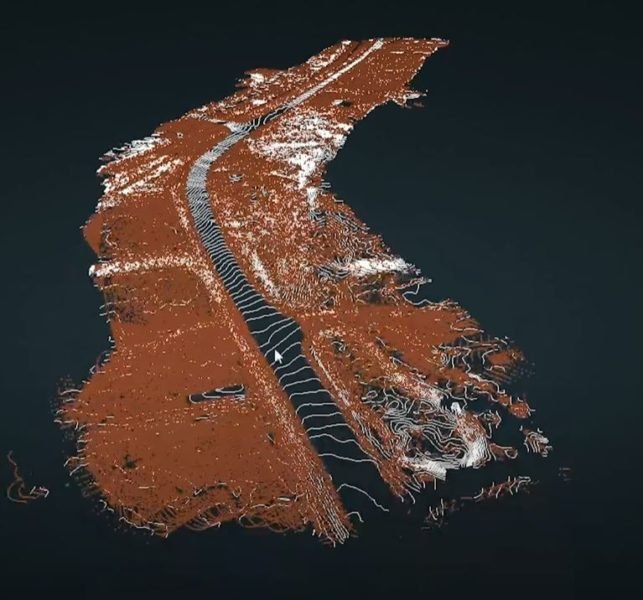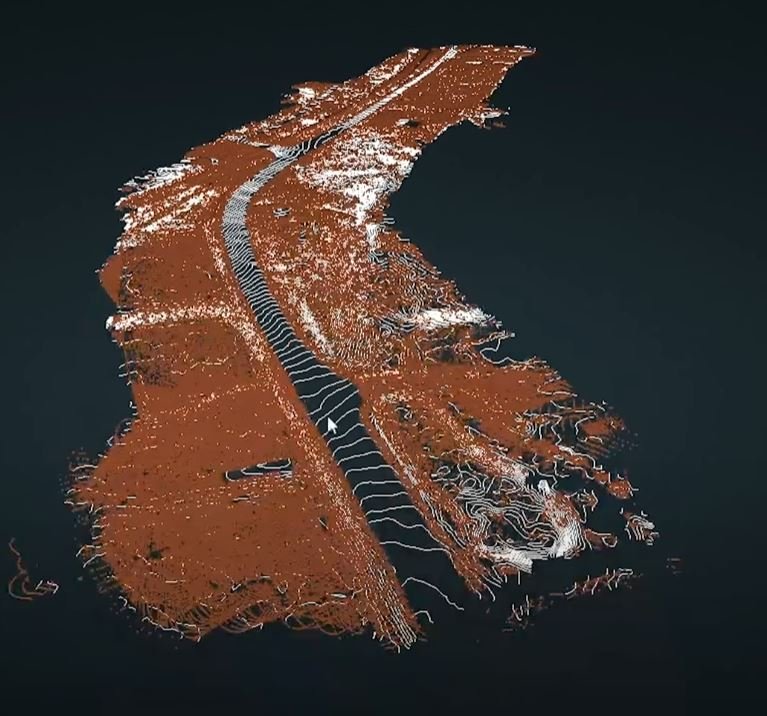 When we remove all of the points above the ground surface, we're left with a detailed Digital Terrain Model (DTM) which can be overlaid with precise elevation contours. Along the hard surfaces like the road and the existing footpath, we can use traditional surveyed ground controls to validate the accuracy and reliability of the LIDAR data across the entire site.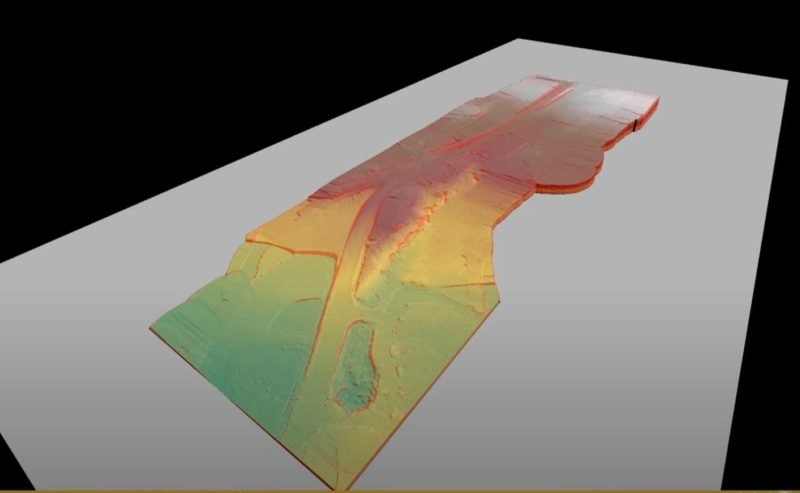 The next step is to import the ground classified DTM into a more conventional survey analysis tool like Virtual Surveyor, where traditional survey techniques can be applied to create breaklines and other deliverables from the LIDAR point cloud data.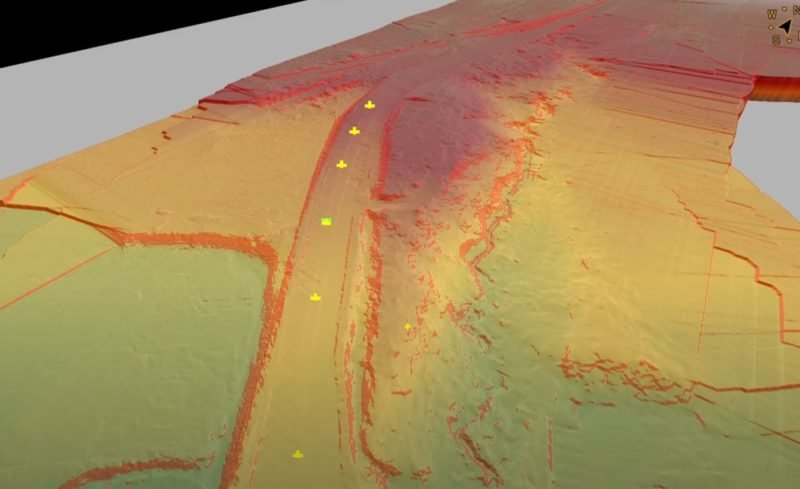 Once the DTM has been imported into Virtual Surveyor, the many points that currently make up the breakline surfaces in the LIDAR point cloud can be rationalised using traditional survey processing techniques. At this point there is almost too much data to work with, which is a pleasant change, but we don't need to use all of it. Just the parts that inform useful interpretations of the data.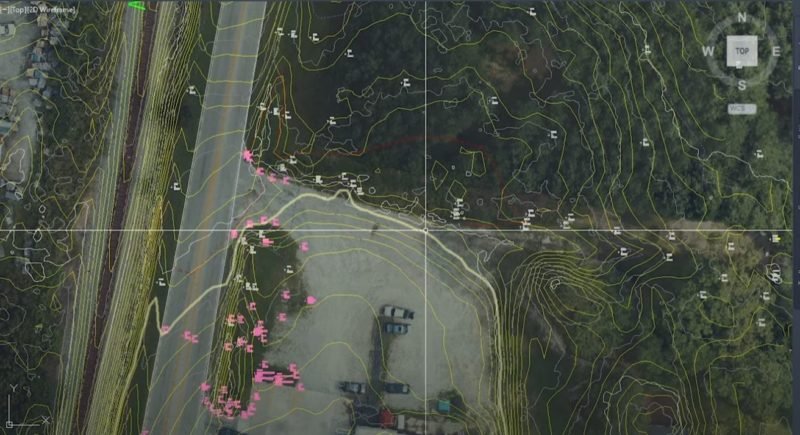 No voodoo here. Once we have the breaklines established in a packaged like Virtual Surveyor, we can bring all the data across the Civil 3D or another CAD package and check the LIDAR point positions and levels against both the ground control points created using traditional survey techniques and the previous elevations and locations from the first stage design data.
Extending the reach of your traditional survey teams using UAV LIDAR Mapping should not mean any loss of accuracy of fidelity in the overall survey data. In fact, it should extend the fidelity of your ground survey to a much larger area, with much greater levels of information.
We hope you've enjoyed this aerial LIDAR survey mapping case study. If you would like to discuss how drone drone LIDAR survey mapping could be used to achieve your project goals, give Tony a call on 1300 677 183, send an email with your requirements to [email protected], or complete the enquiry form below and we'll give you a call.
Aerial LIDAR Enquiry Form