Use Cases for Drones in Solar Farm Inspections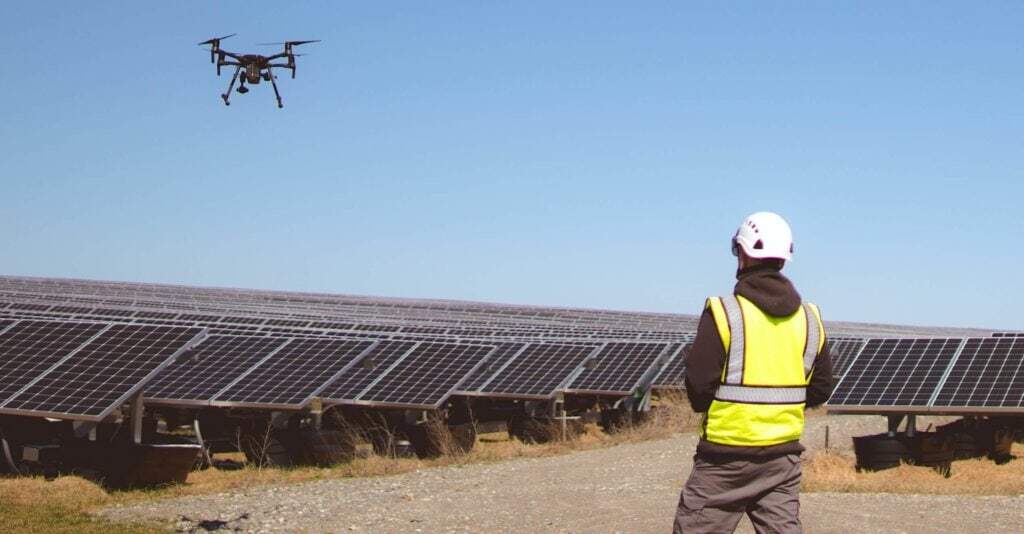 There are many possible viable use cases for drones in solar farm inspections, due to the flexible and powerful applications of commercial grade UAV technology. If you've already read our Aerial Asset and Infrastructure Inspections page, you'll have seen that solar panel and array inspections are a popular use case, but they are far from being the only cost-effective and viable use case for drones in this industry. In fact, Queensland Drones has established a lifecycle model for drones in solar farm management that supports you from conception to ongoing maintenance and management.
Solar Farm Inspections for Planning, Development and Construction
Even before you purchase or lease a site for your proposed solar farm, Queensland Drones can assist you to make the right decision. If you provide us with your optimal site requirements (size, land type, soil type, grid proximity), we can assist you to identify location candidates based on powerful analysis of satellite and other property data.
Once you establish a preferred location, Queensland Drones can collect precise aerial data to develop topographical models (elevation, contours, shade assessment and even soil analysis) to assist you in planning how to optimise the site for maximum power generation.
Because our site models are so accurate, we can also provide precise A/B lines to your specification to anchor modelling for solar array placement, road and track placement, building placement and grid connector placement. We can also identify cut-and-fill volumes to estimate the scope of earthworks required to achieve the optimal placement of arrays.
During construction itself, Queensland Drones can provide regular construction progress reporting including change detection to assist in milestone reporting, contractor claim validation, stakeholder reporting and general project management.
At the completion of construction, Queensland Drones can deliver a final as-built model of the site which can be validated against design drawings to ensure that all construction was completed according to the site design parameters, prior to sign-off.
Solar Farm Inspections for Delivery and Commissioning
Once construction has been completed and signed off, Queensland Drones can develop an agreed method to cost-effectively and efficiently monitor the operational health of your solar farm, supporting your maintenance and inspection teams to achieve maximum operational efficiency.
We typically start with development of a "digital twin" of the property, a very detailed and accurate 3D model of the entire solar farm which can be used to view the infrastructure from any angle or direction on the desktop for maintenance planning and equipment identification purposes. This is a very powerful tool for briefing contractors and maintenance crews before they attend the site and for training new staff.
The data contained in the "digital twin" can also be used to assist project financiers in signing off final payments, and to assist energy companies in signing off connection agreements, to reduce the time required to bring the solar farm into commercial production.
And, of course, the rendering of this data to high quality aerial photos and virtual fly throughs can be a very powerful tool to satisfy stakeholders that their investment has been realised and is ready to earn financial returns.
Solar Farm Inspections for Ongoing Operation and Maintenance
As many solar farms are located in rural and remote areas, sending a team to a solar farm for inspection is expensive and often unnecessary, as a precision drone inspection can provide all the routine data required to identify emerging issues during normal operation. As we have teams out and about across Queensland and New South Wales most days, we can schedule regular inspections in passing to minimise mobilisation costs to site.
At a minimum, your solar farm will require a detailed annual inspection to satisfy compliance requirements, but regular monthly or quarterly IR inspections can identify emerging issues in panels, arrays and connectors in a fraction of the time it would take to conduct ground-based traditional inspections. These regular reports provide summary information on issues or faults we can identify from the IR imagery and detailed photographic evidence to provide to contractors or maintenance teams.
If your solar farm has ground cover or inter-rack vegetation, Queensland Drones can also provide multispectral imaging of the property to assess the health of the ground cover, identify areas requiring additional irrigation or nutrition, and flag outbreaks of weeds and pests that may require treatment. This inspection can also provide early identification of ground water movement and slope or elevation changes that could indicate developing erosion problems.
Our high resolution RGB imaging can support desktop inspection of the condition of gates, fences, roofs, buildings and other assets to assist in routine maintenance. If required, we can also provide detailed analysis of this imagery and exception reporting of any issues identified by our AI platform.
Solar Farm Inspections for Critical Asset Inspection and Measurement
Aside from solar panel arrays and ground vegetation, there are many other critical assets that need regular and detailed inspection for maintenance and compliance management and for reporting purposes.
Even when maintenance crews are required to attend a site, there are some tasks that should be avoided if possible to minimise the risks to maintenance personnel and contractors, like climbing onto building roofs to assess their condition, and climbing poles to assess connectors and brackets. These are inspection tasks easily undertaken by experienced drone operators and this method of inspection can provide more consistent and detailed reporting than traditional methods.
Queensland Drones can provide high resolution photographic or video inspection of solar farm buildings, rooftops, substations, power lines, power poles, insulators, clamps and all the other elements that go into effective delivery of your solar output to the utility grid. Our thermal inspection drones can also quickly identify poor connections, hotspots and leakage that could reduce the efficiency of your system and eventually lead to expensive shutdowns.
At times we've even found unusual defects like animals nesting in equipment and birds nesting in power poles, both of which can cause major issues for your solar farm. We can also provide post-storm damage assessments including identifying cracked panels from hail storms and low-efficiency panels from dust storms.
In Conclusion
We're sure that from the information above you've seen many ways to improve the planning, construction and ongoing operation of your solar farm using commercial grade UAVs and trained, experienced UAV pilots. You may decide to invest in purchasing your own UAV equipment and training your own pilots, but our experience is that companies who go down this path are often disappointed with the outcome because your teams are unlikely to ever achieve the range of sensors and the level of experience available from full-time commercial UAV pilots.
We are all working towards the day when UAV pilots are no longer required and drones will autonomously inspect your solar farm without human intervention, but even then you will benefit from the oversight of an experienced and qualified commercial UAV company like Queensland Drones to help you choose and install the right equipment, obtain and renew all the required authorisations and permissions for ongoing operation of that equipment, and establish the right operational and processing workflows to ensure you get all the information you need at the time you need it and in a format you can easily consume at management and operational levels.
Even if you do choose to set up your own internal drone program, Queensland Drones can assist you to choose and purchase the right equipment and training and to develop the workflow processes and processing capabilities that will deliver the outcomes you are seeking. We will also provide ongoing support including placement of relief and fill-in pilots and equipment to ensure your operations are always at their most effective.
Queensland Drones is one of the oldest and most experienced commercial UAV operators on the Eastern Seaboard, and although we focus our operations in Queensland and Northern NSW, we have a network of trusted UAV pilots who can deliver services on our behalf across most of Australia.
We are looking for long term, trust-based relationships with our clients to ensure we both get maximum value from our activities. We will always work to ensure you have exactly what you need at all times.
We are CASA-certified and fully insured. To find out more about how our Aerial Asset Inspection Services can help you to better achieve your asset management outcomes, call us on the number below or use one of the other links to request a callback, usually within one working day.
Ask Us About UAV Solar Farm Inspections